America's Next Great Restaurant 2011 Winter TCA Panel
America's Next Great Restaurant Is "About the American Dream"
NBC's America's Next Great Restaurant was among many midseason TV shows at the Winter TCA, and the competition reality series is about to make someone's dream come true in the grandest way possible. Celebrity chefs Bobby Flay and Curtis Stone are judging the hopefuls who want to open the next big restaurant chain, so the show will be equally as focused on food as it is on business, sort of like if The Apprentice met Top Chef. Flay and Stone joined the producers to talk about what the competition is all about.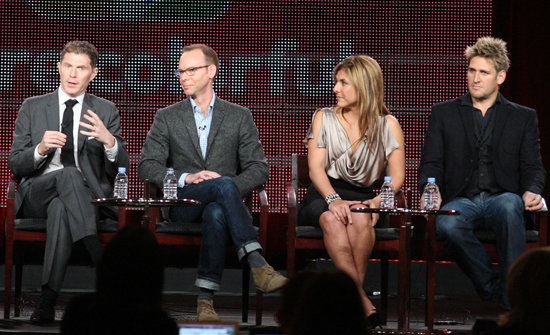 Judge Steve Ells, who launched the Chipotle chain, says the judges are looking for a great "fast, casual restaurant idea that's going to sweep this country." He stressed that "fast casual" isn't fast food, and that the winning restaurant should offer real food and real cooking "that just happens to be convenient." And it's not just about one location — the best idea needs to be able to become a chain.
Flay is excited about what he and the other judges — who are all potential investors in the winning concept — will encounter: "Ultimately this show is about the American dream," but they won't pass just anyone on to the next rounds because they like them. It's business — as investors, they can't "get a show-crush on them" to keep them around.
Executive producer Jane Lipsitz gave details about the format: the first episode narrows down the 20 concepts to 10, and every week, they'll be developing concepts like design, menu, and marketing technique to evolve the restaurants. Exec producer Dan Cutforth pointed out one big bonus to the show: eventually, "America's going to be able to go out and taste this food."
There's still more Winter TCA news coming, so keep reading BuzzSugar!