As American As Apple Crisp
Party must be able to predict the future, well, at least mine, because this past weekend a friend dropped off a bushel of apples! After reading through your wonderful ideas and strongly debating on making those scrumptious apple and brie nachos, I opted for a traditional, exceptionally tasty apple crisp! Like crumbles, crisps are very easy to make and require little prep work. For an extra crunchy texture, I added old-fashioned oats and freshly roasted walnuts to my crisp. Crisps are a delightful alternative to the classic, time-consuming holiday pie and are easily adaptable to include a variety of fruits. Whatever fruit you choose, always serve warm with a large dollop of whipped cream! Get started on your own and
.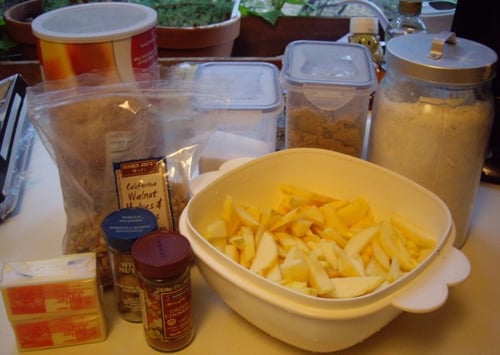 Apple Crisp
Original Recipe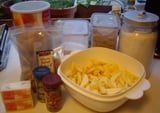 Ingredients
2 pounds of apple, peeled, cored, and chopped
1 lemon, juiced
1/2 cup flour
1/4 cup brown sugar
1/4 cup sugar
3/4 teaspoon cinnamon
1/4 teaspoon freshly ground nutmeg
1/4 teaspoon cardamon
1/2 cup old-fashioned oats
Pinch of salt
1/2 cup butter, room temperature
1/2 cup walnuts roasted and coarsely chopped
Directions
Preheat oven to 375°F. Chop apples into slices or bite-size pieces. In a bowl coat the apples with fresh lemon juice to prevent any discoloration.
In a large bowl, combine the flour, brown sugar, sugar, cinnamon, nutmeg, cardamon, oats, and salt.
Add the butter and walnuts to the flour-oatmeal mixture. Stir until the mixture resembles coarse sand. For me its easiest to use my fingers to combine the butter and oats.
Butter a deep baking pan. Place the apples on the bottom and gently pack the crisp mixture on top.
Bake for 35-40 minutes or until apples are cooked and topping has browned. Serve warm with a dollop of whipped cream.
Serves 8-10.
Information
Category

Desserts, Cobblers