Andouille Sausage and Cornbread Dressing Recipe
Southern Thanksgiving Side: Andouille and Cornbread Dressing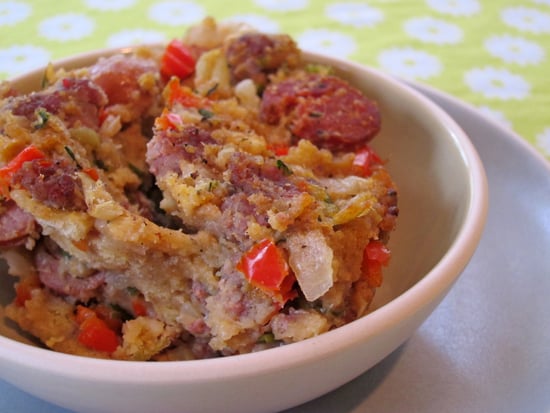 People have strong opinions when it comes to dressing, starting with whether it should be called "dressing" or "stuffing." In the South, my family always called it "dressing" and baked it in a casserole dish, not a turkey, and we always had two options: sausage or oyster. What we did not have was cornbread.
As a lover of all things cornmeal — corn dogs, grits, tamales, you name it — I figured it was high time I made a cornbread dressing. To my palate, white bread stuffings are often bland, but this New Orleans-inspired dressing packs a punch with spicy andouille sausage, chopped celery and red peppers, and a dash of hot sauce. I didn't change a thing in this recipe, and it was luxuriously moist, spicy but not too spicy, and full of flavor. Get the recipe for your Thanksgiving.
Andouille Sausage and Corn Bread Stuffing
From Bon Appétit
Ingredients
2 tablespoons (1/4 stick) butter
1 pound andouille sausages, cut into 1/3-inch pieces
1 12-ounce package breakfast-style bulk sausage
3 cups chopped onions (about 2 medium onions)
2 cups chopped celery
2 cups chopped red bell peppers
1 cup chopped green onions
2 teaspoons chopped fresh thyme
1 teaspoon hot pepper sauce
1 teaspoon dried rubbed sage
12 ounces dry corn bread stuffing mix
1 1/2 cups (about) canned low-salt chicken broth
Directions
Melt butter in heavy large skillet over medium-high heat. Add all sausages and cook until brown and cooked through, breaking up bulk sausage with back of fork, about 5 minutes.

Add onions, celery, and red bell peppers. Cover and cook until vegetables are tender, stirring occasionally, about 12 minutes. Stir in green onions, thyme, hot pepper sauce and sage.

Transfer sausage mixture to large bowl. (Can be prepared 1 day ahead. Cover and refrigerate.) Stir stuffing mix into sausage mixture. Season with salt and pepper.

To bake stuffing in turkey: Loosely fill main turkey cavity with stuffing. Add enough broth to remaining stuffing to moisten lightly (about 1/4 to 1/2 cup, depending on amount of remaining stuffing). Generously butter glass or ceramic baking dish. Spoon remaining stuffing into dish. Cover with buttered foil, buttered side down. Bake stuffing in dish alongside turkey until heated through, about 30 minutes. Uncover stuffing. Bake until top is just crisp and golden, about 15 minutes.

To bake all of stuffing in baking dish: Preheat oven to 350°F. Generously butter 15x10x2-inch, 13x9x2-inch or 8-inch square glass or ceramic baking dish, using size called for in recipe. Add enough broth to stuffing to moisten (about 3/4 cup to 1 1/2 cups.) Transfer stuffing to prepared dish. Cover with buttered foil, buttered side down; bake until heated through, about 30 minutes. Uncover and bake until top is crisp and golden, about 20 minutes longer.
Makes 10 to 12 servings.
Information
Category

Side Dishes, Stuffing/dressing

Cuisine

North American