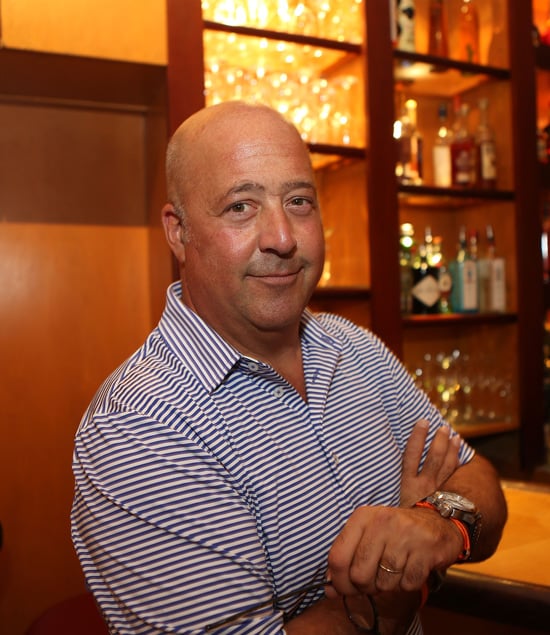 Andrew Zimmern's got a show on the Travel Channel, a food truck, a wife and kids, a new book, nearly a dozen partnerships, and a place on Anthony Bourdain's new book tour. But for a culinary personality juggling so many projects, he's got a surprisingly laid-back attitude about it all. Case in point: at the South Beach Wine and Food Festival, hours before competing in a volleyball tournament, appearing living on Sirius Radio, and judging the festival's Burger Bash, he was sunning shirtless by the pool at the Loews Miami Beach Hotel with friend and fellow chef Michael White. Before burgers but after volleyball, we had a chance to catch up with the TV host when he was at a kickoff event for his new partnership with travel company Traterra.
PopSugar: What have you been up to in South Beach thus far?
Andrew Zimmern: Last night I went to the Q; I had my son with me, and kids weren't allowed in, so we played tag on the beach and smelled barbecue. It was just as good. Today I did a volleyball tournament: my team — the old, fat men — won the tournament, which was just unbelievable. I have this event with Traterra. I believe strongly in what they're trying to do: to bring real travel, not tourism, to everyone. I'm judging Burger Bash tonight. We have a system so you don't have to eat all 34 [burgers]. You divide them, and everybody takes [a flight], and you rate your top two or three, and then everybody tastes them again. The aggregate is you're only eating 16 burgers, or something like that. It's a good system: I judged it [in previous years] when you had to eat all 22. It was terrible. Talk about the meat sweats! We'll go to some fun afterparties tonight. Tomorrow, I'm doing my kids event out in Jungle Island, which is wonderful: it's cooking healthy food with kids. I make them laugh, and we have a good time. I get more out of it than my kid, I'm sure. I've got my event on Sunday, Trucks in the City. We've taken over a corner of the [Miami] Design District, and we're putting 24 of the best trucks from town in one place, and we having a great truck meet-up. And my truck is there, AZ Canteen.
Keep reading for more on what's next for Zimmern.
PS: Your truck's still pretty new. Can you tell us more about it?
AZ: It's very new. We haven't even had our first anniversary yet. Aug. 24, it will be 1 year old. I tried to be really measured about getting back in the food business, and wanted to do a food truck. We feature goat on our truck: we have a goat butter burger and we have a baby goat sausage grinder. We do a pork belly on our menu with green papaya salad. We have a great, great vibe on our truck. We actually have a dulce de leche shaved ice dessert that was inspired by Raspados Loly's here in town. I ate it and I said, "I need to make this on my truck." So you know, the truck business is fun: it's a place where I can showcase new products that I'm working with. We're debuting our new product, which is an all-beef, Piedmontese species-specific hot dog Sunday at the event. I'm nervous to roll out a new product and push 1,500 of them out the door. It's yummy: it's a Piedmontese hot dog, and we're doing it with a piment d'Espelette and celery salt shake with homemade slaw and roasted vegetable mayo and homemade Dijon mustard.
PS: Tell us what else you have going on.
AZ: That doesn't even scratch the surface. We didn't talk about Bizarre Foods at all, which premieres right now Monday nights at 9 p.m. on the Travel Channel. And — crazy thing for someone who's in their eighth season of television — we're having our best ratings ever, which is awesome. So we've never been more well-received, which is thrilling. We have my new book, which came out last October. It's doing great — it's a kids book, my field guide to bizarre foods [Andrew Zimmern's Field Guide to Exceptionally Weird, Wild, and Wonderful Foods: An Intrepid Eater's Digest]. We have so much cool stuff going on, it's almost hard to keep up sometimes.
PS: I know you hinted at a sequel to the book.
AZ: We are, without a doubt, going to be doing a sequel to the book. In one form or another, we will be doing a sequel to it — we essentially wrote enough for two books. My company, Food Works, considers itself a content production company, and at a certain point, we realized we just wanted to double down on the stuff we knew would be successful. The other thing that we're doing is that I have a serialized grade-level-readers kids adventure book, which people will be hearing a lot about in coming months. A devilish little group of precocious, freaked-out, food-forward kids who travel back in time and rescue the world.
PS: In 2011, you were saying goat's where it's at. What do you think is this year's big ingredient?
AZ: Oh my gosh, what a great question. If goat was 2012, what's 2013? I'm gonna go with butter. Butter is going to come back in a big way. When I see butter being treated in the way it has been over the last year in California, I think butter is coming back. I got turned on to the idea of it in California. I was with David Kinch in Manresa and I watched him do some things with butter and braising vegetables in it, and doing it in a salad, and I turned to him and said, "Butter's the new bacon." He laughed — but I really didn't mean it as a joke. Bacon? Out. Butter is the new bacon: poaching in it, saucing in it, using it as a key flavor ingredient. People are understanding again why butter was king for 2,000 years, and now it's going to have its moment again.
— Additional reporting by Nicole Perry