Anne Burrell Interview
Dig Deep Into the World of Chef Anne Burrell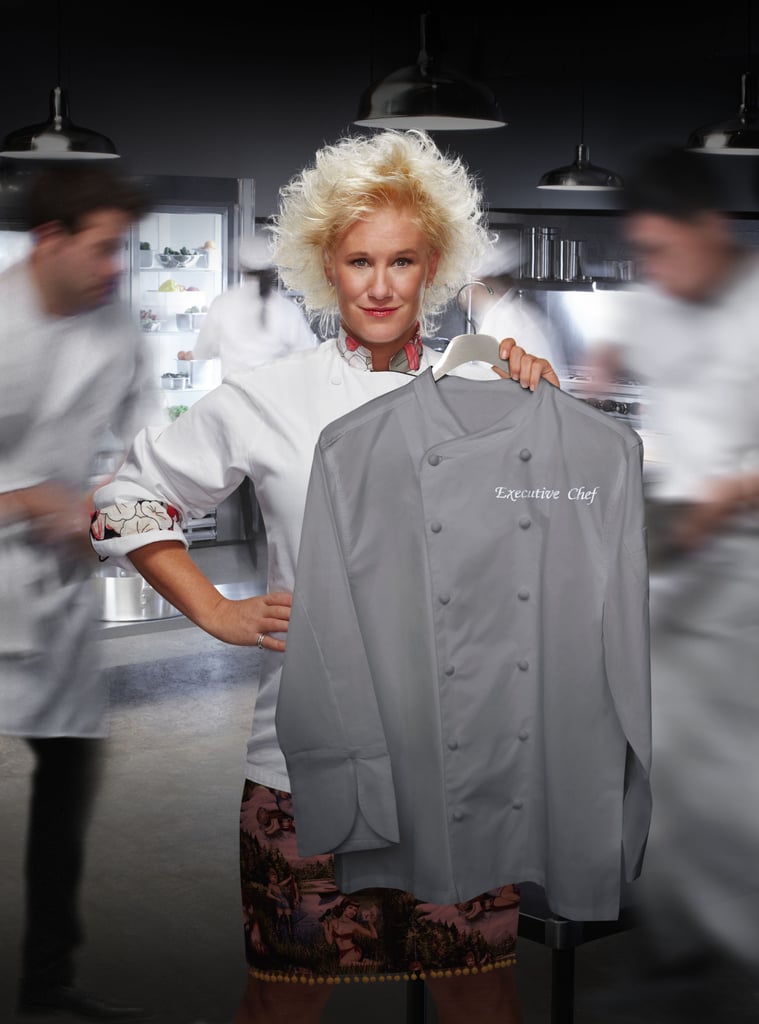 Anne Burrell is known for a lot more than just her spicy blond hair and mismatched socks. She's an esteemed chef who worked in some of the top restaurants in NYC, battled it out on Iron Chef as Mario Batali's sous chef, and now keeps her schedule packed with several Food Network shows: her cooking show Secrets of a Restaurant Chef as well as two reality shows, Chef Wanted and Worst Cooks in America. A few years back she published her first cookbook, Cook Like a Rock Star and she has plans to release another one this Fall. Keep reading to learn more about Chef Burrell's rewarding moments on TV, the most amazing thing she's eaten lately, and tidbits about her new book.
POPSUGAR: Which of your TV shows is the most rewarding one to work on, and why?
Anne Burrell: They are all rewarding, but Chef Wanted is really rewarding, because we help people find jobs. We put people in new situations. The restaurants benefit; the chefs and the chef's family benefit. A lot of times, these are people who don't have a job at all and are looking for one. We put them through a really hard job interview, but there's a big payoff in the end.
PS: You mentor the whole gamut of cooks from the worst in America to home cooks to prospective chefs.
AB: Well, Worst Cooks in America is really rewarding also. You see people who just have everything to learn and they really do. They dig deep. They go from doing these funny things that are so wrong; and you see them make a transformation and actually get to be almost-respectable home cooks.
PS: I can't watch more than five minutes of Worst Cooks in America without cringing. Is that the case with you or do they just make you laugh?
AB: Yeah, some things are cringe-worthy. I cringe when people are dangerous; when I'm scared they're going to hurt themselves. That's when I get nervous. Other things they do to food — instead of [being] cringe-worthy, it's more eye rolling. There are definitely some silly situations.
PS: I think it's safe to say we were all inexperienced cooks at some point. Do you have any memories of something going terribly wrong in the kitchen that you can laugh at now?
AB: I started cooking at a really young age, so yes, I made a ton of mistakes when I was little. Not reading recipes; just getting really excited reading down the list of ingredients and dumping everything in all together, then [realizing] oh, I wasn't supposed to do that.
PS: You were lucky enough to have respectable mentors in the kitchen. What were some of the best lessons they taught you?
AB: I've had two of the best of the best: Lidia Bastianich and Mario Batali. It's invaluable what I've learned from both of them. I certainly would not be here today if it wasn't for them. Both in terms of cooking, how to behave in the kitchen, how to deal with the public, how to be a restauranteur, about business, dealing with staff. I mean you name it; there are so many things. [Mario] is just such a cool cucumber. He has very high standards, but he has a way of getting what he wants from people in a relaxed, usually relaxed, atmosphere.
PS: What advice do you have for those new to the restaurant industry or even new to entering the kitchen?
AB: If you want to make a career in the restaurant industry, it's hard work. Accept it and move on. Work hard and love what you do. If you're starting out in the kitchen as just being a home cook, read your recipe before you get started; make sure you have all the ingredients; and again, have fun with it. That's the key to enjoying a lot of stuff.
PS: Of everything you do in the food industry, which is your favorite? To cook, teach, taste, or judge?
AB: Probably cook. Yes, it would have to be cooking. But tasting is part of cooking. I love teaching. The judging is also fun. I love competing. I love working with people. I love demoing. There's so much of it that I love.
PS: What's the most memorable thing you've eaten recently?
AB: I went to Mission Chinese the other night. It was sooo good. I had this thing called Egg Egg Noodles, and it was kind of like the Asian version of carbonara. It was good stuff. The next morning, I woke up and kind of wished I had more of it.
PS: What other projects do you have in the works?
AB: I'm hoping we're going to get the word any day now that Chef Wanted will go for season three. I have a new book coming out in October. Cook Like a Rock Star was about becoming a girl chef, and [this new book] is about my journey as girl chef. It's opened up more flavors than just rustic Italian. They're based on my travels and my experiences. I'm armed with my cooking techniques and so I can go anywhere in the world and cook stuff. I just need to experience new flavors and combinations. This book does not have the piccolini or pasta chapters, but I've replaced them with brunch and sandwiches, which are always super yum.
Source:
Food Network
(©2013, Television Food Network, G.P. All Rights Reserved)