Anne Burrell Interview About The Next Iron Chef: Super Chefs
Anne Burrell Reflects on Next Iron Chef and Her First Cookbook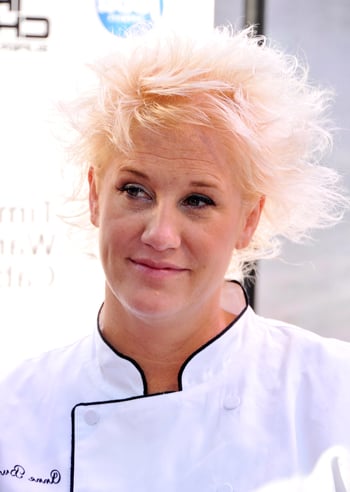 Food Network personality Anne Burrell has come a long way since appearing as Mario Batali's sous chef on Iron Chef America; this coming Sunday, Oct. 30, she'll have come full circle, appearing as a contestant herself, as part of the star-studded cast of Next Iron Chef: Super Chefs.
Earlier this month, we sat down with the brazen blond chef to ask her a few questions about appearing on the show's upcoming fourth season, her brand-new cookbook, and what she's seen on her other show, Worst Cooks in America.
YumSugar: Was the whole experience filming Next Iron Chef emotional?
Anne Burrell: It's all so emotional, the roller coaster, the ups and downs of all of it, beyond words. I was really shocked about how much it got to me. When the whole thing was said and done, I couldn't believe how much of it stuck with me. I thought about it, I went over it, I rehashed it, all of this stuff, the highs and lows of the season, stayed with me for weeks.
After the break, more of Anne on Next Iron Chef: Super Chefs.
YS: What about the show surprised you?
AB: It was really, really hard. The caliber of chefs involved, every single one of them, there wasn't any, "This'll be an easy person to get rid of." Every single one was a really difficult competitor.
YS: Who did you grow close to on the show?
AB: Oddly, I grew really close to everybody on the show. One of the things that I was most surprised about was how well we really got along, how much I really liked them. [I relish] the time that I got to spend with all the chefs; it was really amazing. I knew everybody going into it, except for Chuck Hughes, who I did not know. But it was really great living with people, and spend time with them. We lived together in the same hotel (thank God not all in the same room). But, you know, when you're together shooting a show, there's a lot of down time, so you are essentially living with people.
YS: Was there more camaraderie or competitiveness?
AB: Once you start cooking and that clock starts going you become very competitive, but at the beginning and the end of the day everyone was really considerate and nice. There wasn't anyone that was so out for themselves that they couldn't be kind to everybody else. Everybody was so great.
YS: With so many star chefs in the same kitchen, how much ego is involved?
AB: When chefs are involved, there's always ego and humility involved — that's just the way chefs are. To be a chef, you have to have both. You have to have the ego to put all of the stuff out, but then you have to have the humility to accept criticism, but also praise.
YS: Tell us about your new cookbook, Cook Like a Rock Star.
AB: I'm so proud of it; it's really been an amazing experience. It's my first book. Someone called me author the other day, and I was like, "[Gasp] No way!"
YS: Did anything surprise you about writing it?
AB: Yes, how hard it is. I said, I'm not going to get a writer; I was an English major in college. I wrote recipes all the time. Yeah — it's so not like that. There's so much continuity and detail that goes into everything, and when it comes to that kind of stuff [with recipes], I just don't have the patience.
YS: What's your point of view as an author?
AB: My journey as a cook, and all the stuff that I've learned that I'm trying to help other people learn. The whole idea is it's called Cook Like a Rock Star because if chefs are the new rock stars, people are the chefs of their own kitchen, then I want people to feel like a rock star, if only in their own houses. It's a passive-aggressive away to teach people it's all about fun, and people can make dinner, and go, "Wait a minute — I cooked a little something!" without really knowing they're doing it.
YS: How much of what you bring to the table in the cookbook is a takeaway from starring in Worst Cooks in America?
AB: Well, maybe a little more than you'd think. I understand what people don't understand in their homes, and that helps me become a better teacher when I know what people are scared of. Or just don't get.
YS: What's one of the things that people are afraid of that they shouldn't be afraid of?
AB: People are always scared of undercooking things, so weirdly they cook the crap out of stuff, or it's raw.
YS: So what do you tell them?
AB: Cook it 'til it's done, check it, then turn the burner off before it's black!