Anne Burrell Interview | Spring 2013
Chef Anne Burrell Raves About Spring Produce and Her Ideal Easter Menu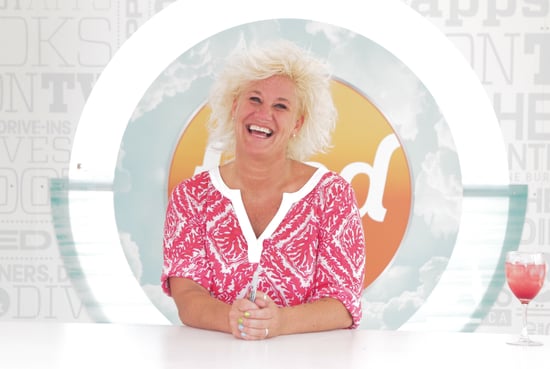 It's no wonder that the always bright and colorful chef Anne Burrell absolutely adores Spring. I recently spoke to her about her shows on the Food Network, but she also had plenty to say about her favorite springtime produce, her ideal Easter menu, and how she stocks and organizes her kitchen.
POPSUGAR: We're approaching Spring. What produce do you love?
Anne Burrell: Spring is my favorite time of year. It's when Mother Nature is waking up again. Everything is light green, new, delicate, and delightful. Things like fava beans, ramps, spring onions, fiddlehead ferns, and morel mushrooms. It's such an exciting time of year.
PS: What does your ideal Easter menu look like?
AB: A big fat ham. If you're not a ham person, then definitely lamb, but I grew up having ham for Easter. Definitely lots of Spring veggies, like the ones I mentioned and asparagus. Of course, with an Easter menu, you have to have deviled eggs, because you just went for an Easter egg hunt. Definitely a bunch of egg salad sandwiches after that. I also love a Spring veggie crostata, a free-formed tart: mix fresh ricotta with Spring onion, some swiss chard, asparagus, and parmesan.
Keep reading to learn about Anne's pantry staples and Spring-cleaning projects.
PS: When you're not cooking and working on all your shows, what fills your time?
AB: These days I'm on the road so much, I'm excited for a tiny bit of downtime. I've been sort of like a house nerd. I'm excited to be at home. For months my apartment has been the place where I do a drive-by to pack and unpack and repack. I'm excited to be a homebody. I've been doing some redecorating, some rearranging, and happily puttering around and cooking at home.
PS: What does your home kitchen look like?
AB: It looks like a New York City rental apartment. It's small, but it is extremely well-stocked with kitchen utensils and things. I have to stop myself from buying anything else. I go into a kitchen supplybrand> store and every single time I'm turned on by what you can get there. I see bowls and rubber spatulas and new pots and pans, [but] I don't need any more stuff and I don't have space for any more stuff. I really have to just resist the urge.
PS: What are some of your favorite tools that you have in your home kitchen?
AB: Forever and always, my trusty food mill. I love my food mill and a wooden spoon. I have certain pans that are nicely worn. My butcher block cutting board that's made from wood from my little town in upstate New York. I like things when they're nicely and comfortably worn. It feels very homey to me.
PS: You say you can't live without a food mill. What's the most unusual thing you've used it for?
AB: I use it mostly for tomatoes or mashed potato purposes. Or for potato/celery root mixes; that kind of thing. If you think rutabaga is out there, then there you go.
PS: What do you always have stocked in your pantry?
AB: My holy trinity in the kitchen is salt, olive oil, and bacon. I always feel like if you have those, along with dried pasta, a can of tomatoes, and some eggs, you can always make dinner.