Anne Burrell's Secrets of a Restaurant Chef
Anne Burrell's Secrets of a Restaurant Chef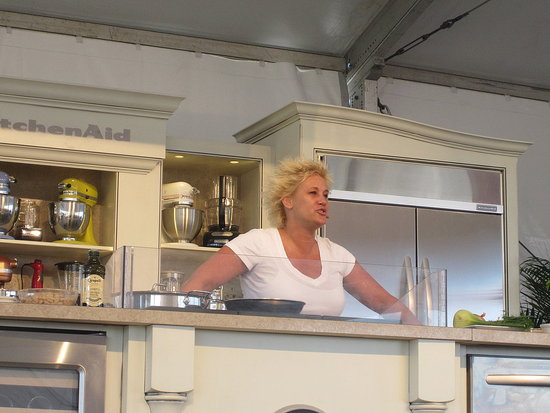 At her demonstration in South Beach, chef Anne Burrell was full of strong opinions that she was more than happy to share with the crowd. In between drinking pink Champagne and going off on several rants, Burrell managed to make a savory Tuscan fish stew. She also had some great pointers on cooking in general. To see what you should be doing to become a better, more restaurant-like home cook, read more.


Take the time to set your mise en place. "I always, always, always do my mise en place before I cook. It makes things easier," Burrell says.
You should feel comfortable in your kitchen. Own the space and take control of your surroundings. Anne believes, "the food knows when you are feeling happy. If you're happy, the food will taste better."
Strongly grip knives for smoother chopping.
Carefully read a recipe from start to finish before you start to cook. That way you can eliminate useless steps and flavors that you dislike.
When heating a pan, set the cold pan on the burner, add the oil, then turn on the heat. "The only way you can tell that a pan is heated is if the butter has melted or the oil is shimmering."
Purchase shellfish that's sold in mesh bags. If you buy clams or mussels that are in plastic bags, you may be getting dead shellfish. The plastic makes them suffocate.
Do you like to watch Anne Burrell? Have you learned anything from her?