Annie's Macaroni and Cheese Pizza Review
The Latest Crazy Hybrid: Mac-and-Cheese Pizza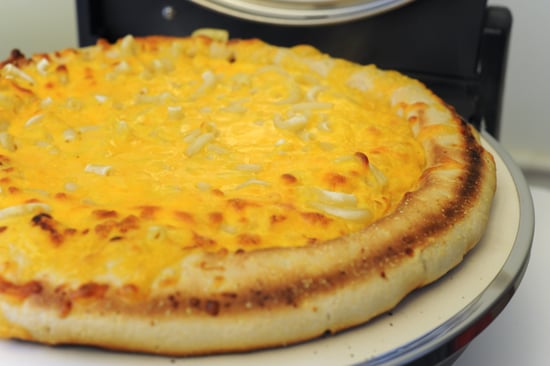 When we first saw the new Annie's commercial for macaroni-and-cheese pizza, we marveled like children at the thought of such a hybrid. It's a pizza crust with a layer of cheddar sauce, a sprinkling of elbow noodles, and shredded cheese topping.
Flash forward to the day we got our hands on one of these Annie's mac-and-cheese pizzas ($8 at Super Target). As we unwrapped the package, there was no doubt about the flavor of this pizza. Some frozen pizzas skimp on the cheese, but not this one. There's plenty of shredded cheese to go around, along with a fluffy, cornmeal-coated crust.
After a trip to the oven, the pizza emerged golden brown, and the cheese bubbled like hot lava. And hot lava it was, as we couldn't wait for it to cool before plowing in to try a slice. The pizza crust itself is doughy, soft, and definitely kid-friendly. The actual mac-and-cheese section of the pizza tasted more like frozen Stouffer's — a little gritty and sharp — but it was still delicious. Some taste testers thought it lacked some seasoning (garlic and onion, for example), while most in the room were apt to think it was just right. It's glorified cheesy bread dotted with elbow noodles, but for those rainy days that call for comfort food, we'd likely toss this pizza in the oven. Either then or after a late night with friends.