Annie Somerville, a California Pioneer in Meatless Eating, Talks 2011 Vegetarian
A Pioneer in Meatless Eating Talks Vegetarian Trends in 2011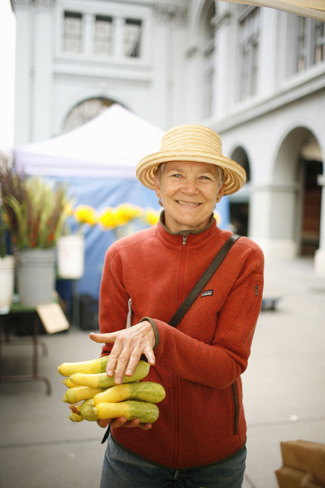 It's been a long time coming, but this year was the first time that vegetables saw their moment in the spotlight. Call it what you will (bacon backlash?) but in 2010, vegetables were proclaimed to be the "new meat." From Mario's vegetarian cookbook to low-carbon, meat-free restaurant chains, vegetable-driven cuisine simply couldn't be ignored.
Is this trend simply recession flexitarianism, or should we expect to see more carrots, cauliflower, and parsnip bacon on menus next year, too? I asked Annie Somerville, executive chef at Greens restaurant and a California pioneer in meatless eating, what her predictions were for the coming 12 months. What's the future of vegetarianism? Find out when you read more.
YumSugar: Produce took center stage this year. Will 2011 be the year more people will turn vegetarian?
Annie Somerville: It depends on how loosely you want to use the word vegetarian, but I think I see more people just being really excited about cooking vegetables and realizing that not only are they really delicious, but they're also really good for you. This health epidemic that we have in our very wealthy country is just crazy, but more and more, I see people turning toward vegetables, beans, whole grains, anything fresh that's real food and grown in season, food that's been harvested recently!
YS: What's one underrated vegetable that we ought to see more of?
AS: It used to be that we [chefs] could not use the word "kale" on a menu; the other one was "rutabaga." [Now], all the varieties of kale, chard, rapini, collards, Asian greens — people are into it. Certainly beets are there, all the different colors of carrots are there, I think all the greens have made it. Rutabaga hasn't yet met its full potential in terms of appreciation. One other one is kohlrabi. It's in the cabbage family; not everybody really understands what it is.
YS: How would you cook with rutabaga and kohlrabi?
AS: Include rutabaga in a roast of vegetables. I would say that you can serve it along with parsnips, carrots, potatoes, even cut in wedges. Cut it of similar size and shape to other vegetables that you're roasting. On our Sunday brunch [menu], we do a large 3/4-inch cubes of a bunch of different vegetables, roast those up, and those are a hash that we serve with poached eggs, chimichurri and biscuits. Kohlrabi is a great one to make slaw out of. It can be its own slaw or you can include it in a slaw with other really crunchy fresh vegetables.
YS: Your restaurant, Greens, has never focused on meat substitutes, but a lot of ambitious vegetable versions of meat specialties — like vegan charcuterie, for instance — have received critical acclaim. Is that the future of haute vegetarianism?
AS: There have always been meat substitutes in vegetarian cooking as long as I have known it . . . but I think that people are doing it in a way that feels fresher, current, tastes good, is visually appealing, and has got good texture. It's great.
YS: What are some other growing trends?
AS: Different kinds of chiles; that's a pretty exciting world, chiles and peppers. I think people are really interested in grains. Right now we're serving a spelt pasta. It's delicious! Another thing that we're really experiencing is the number of customers [who are concerned that] wheat is hidden in processed food. So many people now are allergic to wheat: We make sure that we always have a few really good dishes that people are really excited about that are made without any wheat at all. There's a lot going on out there, that's for sure.
What do you see as the next big trends in vegetarian cuisine? Share your thoughts below — in a year, you'll be able to say you were ahead of the curve!
Source: Seth Joel Photography