Annie Somerville, Executive Chef at Greens, on How to Make a Holiday Meal Veg-Friendly
How to Make Your Holiday Meal Veg-Friendly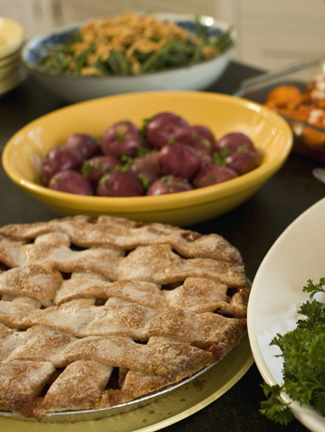 While holiday roasts will likely be a seminal part of this year's Christmas celebrations, don't forget that 2010 was the year of the vegetable, too.
Even if you aren't making an entirely meat-free meal, there are a number of ways you can still make the night's menu vegetable-driven without missing the animal protein.
I asked Annie Somerville, executive chef at landmark vegetarian destination Greens in San Francisco, CA, for some of her recommendations.
To see chef Annie's best bets this yuletide season, keep reading!


Don't feel obligated to rely on meat substitutes. "Do something with mushrooms," she suggests, like shepherd's pie: "Layer wild or cultivated mushrooms with caramelized onions, cheese, and herbs, then top it off with a layer of mashed potatoes. It's something you can make in a casserole dish, a Dutch oven, a Pyrex dish, or individually. We make a mushroom sauce [to go with it]. That's a delicious main event."
Beans: Another magical main. "There are so many good varieties of beans! They all have different flavors and characteristics. Think about beans as being the main event, as opposed to a side event. We would've thought that customers wouldn't have been interested in [that], but they are!" She suggests trying something new, like stuffing poblano chiles with beans.
Take advantage of in-season root vegetables. "Right now at the farmers market, there are all these beautiful carrots, parsnips, brussels sprouts. Roast those up with a little olive oil, salt, fresh black pepper, sprigs of herbs, and serve that as another dish," Somerville recommends. Weather willing, this side can be done on the grill, too.
Remember some veggies actually flourish in the harsh Winter. "Kale gets even better; it's sweetened by the frost and the cold night." And don't forget that citrus: "Satsumas are definitely at their peak, and blood oranges are just getting started."
If you're making a meatless (or vegetarian-friendly) holiday spread this year, feel free to share your own tips with us below.