Anthony Bourdain Chocolate
Taste Test: Anthony Bourdain and Eric Ripert's $18 Chocolate Bar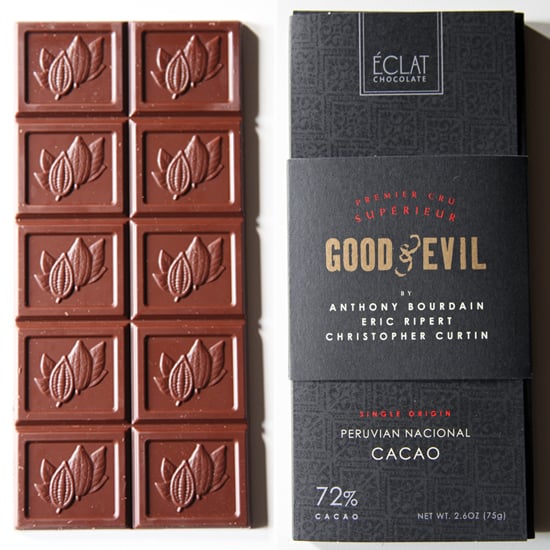 When Anthony Bourdain and Eric Ripert joined with Éclat Chocolate to create the Good & Evil 72 Percent Dark Chocolate Bar ($18), the question on everyone's mind was this: what could possibly cause such a skinny chocolate bar to have such an astronomical price tag? Is it embellished in gold? Do half the proceeds go toward a respectable charity? Does the bar contain youth-restoring properties?
The high expense is due to the fact that the bars are made using pure Nacional, a single-origin Peruvian cacao bean, which the bar claims to be the rarest variety in existence. In addition, the chocolate travels to three different countries before it makes its way to your doorstep: the beans are hand-selected in Peru, then shipped to Switzerland, where they roast in a 135-year-old Swiss conching machine. The chocolate is blended with cacao nibs made from the same Peruvian beans, then molded into Good & Evil chocolate bars in the United States. While it's more common to dole out more dollars for a Premier Cru wine, splurging on chocolate is a lesser-known phenomenon. We sought to find out if the chocolate bar is worth its steep price tag.
The promise: Éclat chocolatier Christopher Curtin explains the idea behind the bar's name: "the harmony of the crunchy, flavorful nibs" stands for evil, while the "smooth luxury of the chocolate" stands for good. Bourdain describes the bar as "silken, smooth, ridiculously high-quality chocolate," and Ripert proclaims this chocolate is "umami in every sense of the word."
What our tasters thought: Tasters enjoyed the complexity of the flavor and the contrasting textures. Many loved the creamy cocoa butter against the crunchy cocoa nibs, and several commented that the bar was not too bitter despite it being dark chocolate. The bar received very high flavor ratings — none under four stars — but when asked the tell-all question, "Would you pay $18?," tasters unanimously voted no.
What YumSugar thought: We appreciated the progression of flavor from fruity blueberries to leathery tobacco. For a bar with 72 percent cacao, this chocolate was slippery-smooth and mild, developing a spiciness as it melted on the palate. The cacao nibs emerged, giving the bar a contrasting crunch without overwhelming the chocolate itself. The nibs imparted a slight bitterness, like roasted coffee, and chocolate lingered on the palate, much like a fine wine. Would any of us chocolate lovers indulge in the hefty sum? We all think it's still far too expensive, even for special occasions. Despite it tasting really good, the price is just pure evil.
Tasters' rating average:
Photos: Nicole Perry