Anthony Bourdain Roast
The Best Lines From NYCWFF's Anthony Bourdain Roast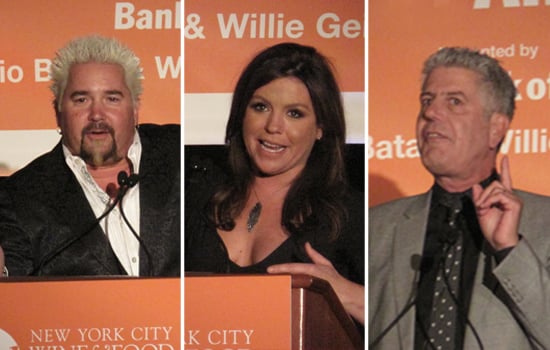 Talk about starting off with a bang: last night, the 2012 New York City Wine & Food Festival kicked off with a comedic roast of Anthony Bourdain by celebrity chefs and comedians, and it seemed like just about every star chef who's seen a camera was there to sling mud at the food personality who made his name slinging mud. As pal Sarah Silverman told Bourdain in a prerecorded video message: "There's gonna be a lot of great lines tonight, and you can't snort any of them."
Great lines indeed. It was a rare opportunity to see another side of the stars of Food Network, who puts on the yearly festival; everyone from the bubbly Rachael Ray to the modest Eric Ripert cracked a dirty sex joke (or 10). Although Bourdain was the subject of the roast, there were plenty of other subjects of interest, primarily Guy Fieri's douchiness, Mario Batali fat jokes, and Ray's inability to cook. Catch up with the best lines you missed from last night's shockingly irreverent, profanity-filled comedy roast of Anthony Bourdain.
Ray on why she read Kitchen Confidential twice: "Let me really read this so I can study up on what it's like to be a total prick."
Fieri on Bourdain: "You're combining cooking, TV, and comedy without actually being good at any of them? That is a real gift."
Batali on Fieri: "His relatives come from the only part of Italy that's never been exposed to food."
Ripert on

Martha Stewart

: "You don't f*ck with Martha. As we say in French, she'll cut a b*tch."
Ted Allen on Bourdain: "[He's an] ex-chef, ex-junkie who's made a fortune insulting his ex-industry."
Comedienne Bonnie McFarlane on Batali: "He loves olive oil because that's how he gets in and out of his car."
Ray on being in the same room with Bourdain: "When they asked me to roast Anthony Bourdain, I thought I could actually have the easiest time of anyone in this room, because I don't have to write jokes; I don't have to come up with insults. If you ask the man of the hour in the hot seat, my mere existence is clearly insult enough."
Allen on Ray: "Rachael Ray is the only person who can make homemade bread out of store-bought bread."
McFarlane on Fieri: "I think he wears his sunglasses backwards so people will get confused and won't punch him in the face."
Ray on Batali: "If you give Mario Batali a BJ, he'll actually lend you his scrunchie to pull your hair back."