Antipasto on a Stick Recipe
Easy, Healthy Killer App: Antipasto Skewers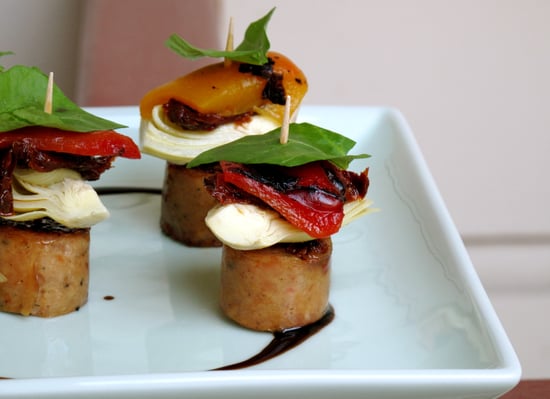 I live by the belief that food tastes better when it's on a stick. This phenomenon doesn't just apply to skewers but also everything from Greek salad bites to French fries and bacon to Vietnamese coffee.
Antipasti is no exception. Rather than serving this crowd-pleasing Italian appetizer on a platter, serve it to a tailgating or holiday crowd as finger food.
This version combines Italian-style chicken sausage, roasted peppers, basil, sun-dried tomatoes, and artichokes, but feel free to mix it up with bocconcini, peppadews, or your favorite salumi. For an unstoppable gobble that's as healthy as it is delicious, keep reading.
Ingredients
Cooking spray
12 ounces fully cooked Italian-style poultry sausage, cut into 1-inch pieces
1/2 cup lightly packed fresh basil
1 12-ounce jar roasted red and yellow peppers, drained, rinsed and cut into 1-inch pieces
2/3 cup sun-dried tomatoes, cut into 1-inch pieces if large
1 14-ounce can artichoke hearts, drained and quartered
Store-bought or homemade balsamic reduction, for serving (optional)
Directions
Heat a nonstick skillet over medium heat; mist with cooking spray. Add the sausage; cook, turning 2 or 3 times, until warmed through and browned, about 8 minutes.
Thread 1 small or 1/2 large basil leaf onto a small wooden skewer. Add a piece of roasted red pepper, sun-dried tomato, artichoke, and sausage, arranging them on the skewer so that it can stand up on the sausage end. Repeat with the remaining ingredients to make about two-dozen skewers. Serve on a plate with a drizzle of balsamic reduction, if desired.
Makes 24 skewers.
Nutritional information per serving (4 skewers): calories 140; fat 5 g (sat. 2 g; mono. 1.5 g; poly. 1 g); cholesterol 30 mg; sodium 970 mg; carbohydrate 12 g; fiber 2 g; protein 12 g
Information
Category

Appetizers, Finger Foods

Cuisine

Italian