Apple Dumplings With Cider Sauce
Fall Into Baked Apple Dumplings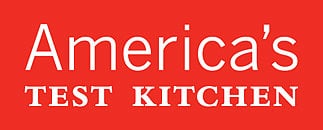 We've got a partnership with the recipe-, equipment-, and product-testing gurus at America's Test Kitchen. They'll be sharing some of their time-tested recipes and technical expertise with us weekly. This week they're sharing a warm, sweet, and cinnamon-y recipe for baked apple dumplings just in time for Rosh Hashanah!
Apples got their start in America from seeds brought by English colonists (the first apple orchard was planted on a slope in Boston in what is now Beacon Hill). In the 19th century, every homemaker could toss off a biscuit or pie dough and deftly wrap it around stuffed apples. They tied up the dumplings in cheesecloth, boiled or steamed them, and served them with sauce; latter-day cooks prefer to bake them. We're not sure when apple dumplings fell out of favor, but we set out to resurrect them.
Keep reading to learn what goes into making tender apple dumplings, and for the recipe.
Apple dumplings are a homespun combination of warm pastry, concentrated apple flavor, raisins, butter, and cinnamon, but too often the apples turn too soft or are unevenly baked. The pastry can also turn gummy from the apples' juices.
We found that biscuit dough was easier to work with than pie dough and did a great job of absorbing the liquid from the apples without getting mushy. Rather than baking the dumplings in syrup as some recipes instruct, we served our sauce on the side, which preserved the dumplings' texture.
Notes
Use a melon baller or a metal teaspoon measure to core the apples.
Ingredients
For the dough:
2 1/2 cups (12 1/2 ounces) all-purpose flour
3 tablespoons sugar
2 teaspoons baking powder
3/4 teaspoon salt
10 tablespoons unsalted butter, cut into 1/2-inch pieces and chilled
5 tablespoons vegetable shortening, cut into 1/2-inch pieces and chilled
3/4 cup cold buttermilk
For the cider sauce:
1 cup apple cider
1 cup water
1 cup (7 ounces) sugar
1/2 teaspoon ground cinnamon
2 tablespoons unsalted butter
1 tablespoon lemon juice
For the apple dumplings:
6 tablespoons (2 2/3 ounces) sugar
1 teaspoon ground cinnamon
3 tablespoons unsalted butter, softened
3 tablespoons golden raisins, chopped
4 Golden Delicious apples
2 egg whites, lightly beaten
Directions
For the dough: Process flour, sugar, baking powder, and salt in food processor until combined, about 15 seconds. Scatter butter and shortening over flour mixture, and pulse until mixture resembles wet sand, about 10 pulses; transfer to bowl. Stir in buttermilk until dough forms. Turn out onto lightly floured work surface and knead briefly until dough is cohesive. Press dough into an 8-by-4‐inch rectangle. Cut in half, wrap each half tightly in plastic wrap, and refrigerate until firm, about 1 hour.
For the cider sauce: Bring cider, water, sugar, and cinnamon to simmer in small saucepan, and cook over medium‐high heat until thickened and reduced to 1 1/2 cups, about 15 minutes. Off heat, whisk in butter and lemon juice.
For the apple dumplings: Adjust oven rack to middle position, and heat oven to 425 degrees. Combine sugar and cinnamon in small bowl. In second bowl, combine butter, raisins, and 3 tablespoons cinnamon sugar mixture. Peel apples, and halve through equator. Remove core, and pack butter mixture into each apple half.
On lightly floured counter, roll each dough half into 12‐inch square. Cut each 12‐inch square into four 6‐inch squares. Working with one at a time, lightly brush edges of dough square with egg white and place apple, cut side up, in center of each square. Gather dough one corner at a time on top of apple, crimping edges to seal. Using paring knife, cut vent hole in top of each dumpling.
Line rimmed baking sheet with parchment paper. Arrange dumplings on prepared baking sheet, brush tops with egg white, and sprinkle with remaining cinnamon sugar. Bake until dough is golden brown and juices are bubbling, 20-25 minutes. Let cool on baking sheet for 10 minutes. Drizzle with the cider sauce and serve warm.
Information
Category

Desserts, Pastries

Cuisine

North American

Yield

Serves 8