Appliance Review: Hurom Slow Juicer
Equipment Lab: Hurom Slow Juicer
As POPSUGAR editors, we independently select and write about stuff we love and think you'll like too. If you buy a product we have recommended, we may receive affiliate commission, which in turn supports our work.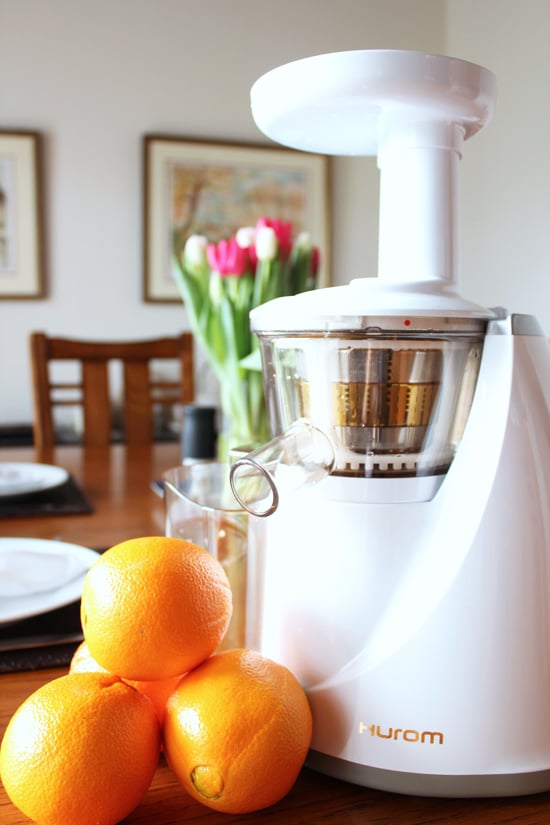 I've never been much of a juicer. Perhaps it's the intimidation factor of learning to use a new appliance or the ugh factor of sticky, pulpy cleanup when I'm done, but I've resisted the juice movement despite the amazing health benefits its proponents espouse. So when we received a Hurom Slow Juicer as a Christmas gift from my in-laws, I was awfully skeptical about its future as a kitchen fixture. After some balking on my part, my gadget-loving, juice-guzzling husband convinced me to give it a try. Would I become a juicing convert? Find out when you keep reading.
Benefits:
The Hurom Slow Juicer's claim to fame is that it extracts more juice than the average juicer, and I believe it after seeing the pulp, which was very dry. One honeydew melon yielded six cups of juice — more than enough for the two of us!
Don't be fooled by the name: juicing with the Hurom is actually very fast. According to Hurom, "slow" refers to the machine's low-speed technology (80 rpm vs. 1,000 to 24,000 rpm for conventional juicers), which allows it to extrude liquids without oxidizing the fruit. The result? Lots of juice with no separation, discoloration, or flavor corruption. My grape juice tasted like fresh grapes; the orange juice didn't require stirring to distribute the pulp.
If you're a surreptitious juicer or you don't want to wake houseguests, the Hurom is your appliance. It's not silent, but it's far quieter than a blender or a high-speed juicer.
It's not just for juicing. While my experiment was limited to juicing fruit, Hurom's recipe booklet offers ideas for sorbets, soups, ketchup, jams, and soy milk.
Cleanup is a breeze. The Hurom has a separate spout that spits out the pulp as it's created, and you can clean the bowl as you juice by periodically pouring water through the machine. Sure, it still has several parts, but each piece is detachable and cleans easily with dish soap and a sponge. I didn't need to scrub much, and I wasn't left with any stray seeds or pulp.
Drawbacks:
It's expensive. The $359 price tag places the Hurom in the upper echelon of electric juicers, so you really must love juice to make it worthwhile.
Don't expect completely pulp-free juice. While the Hurom recommends that you run your juice through the machine a few times to remove as much pulp as possible, I found that my OJ was still quite thick. Fortunately, the flavor was outstanding, so I would have eaten it with a spoon if necessary!
The small feeding nozzle requires a bit more prep work than your average juicer. The instruction manual recommends that you chop fruit and vegetables into two-inch pieces, meaning that berries are easy, but a cantaloupe will take a little longer.
In summary: the Hurom Slow Juicer offers outstanding competitive advantages vs. other juicers on the market. If you love making your own juice, you'll enjoy the efficiency, low mess, and fresh-tasting juice that this appliance offers. But priced over $300, it's a big investment if you're just experimenting with at-home juicing. If you're a juicing newbie, consider trying out an entry-level model before plunking down big bucks for the Hurom!