Arby's Unveils Line of Premium, Medium-Rare Beef Sandwiches
Would You Eat Fast Food Beef That's Less Than Well-Done?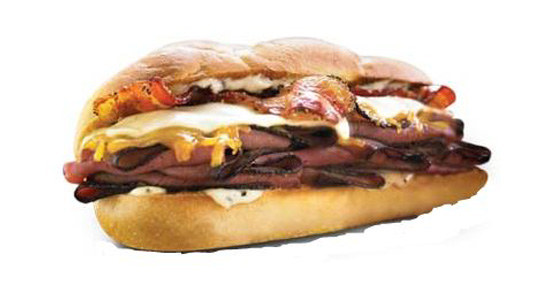 Like the rest of the fast food world, Arby's is stepping up its game. Earlier this week, it introduced its new Angus Three Cheese & Bacon, the first menu item in a new line of premium beef sandwiches that are made with medium-rare Angus beef.
After the accusation that Taco Bell is falsely labeling its "seasoned beef," you'd think there'd be more than a little caution exercised over serving a burger, burrito, or anything else bovine less than 100 percent genuine and cooked well-done completely throughout.
Bret Thorn, a food writer for Nation's Restaurant News who actually sampled the item, maintains that "big fast food chains have serious safeguards in place." Certainly, Arby's wants no part of the meat saga that Taco Bell's been through. If you do order meat at fast food restaurants: are you against the idea of eating beef that's anything less than well-done?