Art Smith's Tips For Healthy Eating
How Art Smith Lost 95 Pounds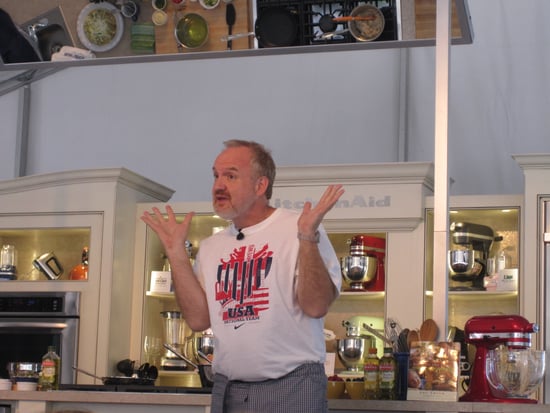 When we arrived in Aspen for the Food & Wine Classic, one of the first things we did was browse the recipes in the Tasting Notes booklet. These were the dishes that the chefs would make during their demos. While some, like Tom Colicchio's homemade lamb sausage, sounded wonderful, others, say Art Smith's egg white fritatta, seemed boring.
I had all but given up on the chef from Chicago when I realized that he would be discussing his dramatic weight loss. Since the doctor recently told my dad he should shed some pounds, I thought I would check out Smith's demo to see what he had to say. The entertaining chef, who has cooked for everyone from the Obamas to Oprah, was an inspiration. To find out how he lost 95 pounds in a little over a year, keep reading.


Smith doesn't believe in diets. Instead he went from 325 pounds to 230 pounds by changing the way he eats (he now eats lots more whole foods) and exercising more.
Art said he spent years of his life "treating a lot of people beautifully," but when he was diagnosed with diabetes he realized it was time to treat himself better, thus he came up with this regime.
Every morning, Smith begins his day with the "Art Start." He has the same meal — oatmeal with berries and an egg white frittata with zucchini — over and over again. Since he only uses a little oil to cook the frittata, he makes it in a nonstick pan to ensure the eggs will come out easily.
Don't make food that's too complicated, and eat six small meals a day. Art's six meals are: the "Art Start," a piece of fruit, lunch (salad), Greek yogurt, dinner, and chocolate.
Drink six bottles of water a day.
Avoid food stuffs, like soda, that have artificial sugar.
Eat salad every day. Art loads his salads with protein and vegetables, but doesn't dress them. His current favorite salad consists of arugula, fennel, red onion, tomatoes, grilled asparagus, beef tenderloin, feta cheese, and a squeeze of fresh lemon juice.
Although he follows a regime, Smith says you must "diversify what you eat, or you won't be successful." He also believes in rewarding himself. For six days a week he eats healthy, then on the seventh day, he eats what he wants.
Remember, dessert is a treat. "If you have dessert every day, then it's no longer a treat."
What do you think of Art's tips?