Artichoke Dip Recipe
Killer App: Artichoke Dip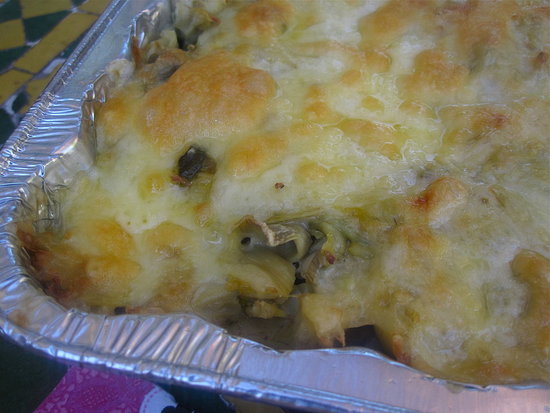 I'm a sucker for dips and not just any old dip, the hot, gooey kind that is loaded with awful amounts of mayonnaise and cheese. Although I don't indulge in this sort of richness all the time, there's plenty of occasions that call for a bubbly artichoke dip. Since I'm sure some of you feel the same way that I do about dip, I'm sharing my latest favorite artichoke recipe. It's got all the classic ingredients: frozen artichokes, the aforementioned mayonnaise, and two types of cheese, parmesan and cheddar. Jalapeño, lemon zest, and a hearty does of Tabasco season the mixture. If you are in need of a really good and decadent dip, make this one! Here's the recipe.
Ingredients
1 large jalapeño
Four 9-ounce boxes frozen artichokes—thawed, drained and coarsely chopped
3/4 cup mayonnaise
3/4 cup freshly grated Parmigiano-Reggiano cheese
1 garlic clove, minced
1 tablespoon fresh lemon juice
1 teaspoon finely grated lemon zest
1 teaspoon kosher salt
1 teaspoon Tabasco
2 1/2 ounces sharp white cheddar cheese, shredded (1 cup)
Crackers or sliced baguette, for serving
Directions
Preheat the oven to 350°. Roast the jalapeño directly over a gas flame, turning, until charred all over. Let cool, then peel and seed the jalapeño and cut it into 1/4-inch dice.
In a large bowl, mix the artichokes with the jalapeño, mayonnaise, Parmigiano, garlic, lemon juice, lemon zest, salt and Tabasco. Transfer the mixture to a 1-quart baking dish. Bake for about 15 minutes, or until hot.
Preheat the broiler. Sprinkle the shredded cheddar evenly over the hot dip. Broil for about 2 minutes, until browned in spots and bubbly. Serve hot or warm, with crackers.
Serves 8.
Information
Category

Dips, Appetizers

Cuisine

North American