Arugula Salad With Blood Oranges, Fennel and Ricotta Salata
Arugula Salad With Blood Oranges, Fennel and Ricotta Salata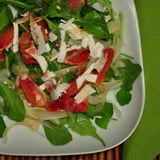 Ingredients
2 tsp. minced shallots
6 small blood oranges
2-1/2 Tbs. red wine vinegar
1/4 tsp. sea salt or kosher salt; more to taste
Freshly ground black pepper
2 Tbs. extra-virgin olive oil
1/2 lb. baby arugula (6 to 7 cups)
1 medium fennel bulb (about 3/4 lb.)
1/4 lb. ricotta salata, shaved with a vegetable peeler to yield about 1 cup
Directions
Put the shallots in a small bowl. Squeeze one of the blood oranges to get 2 tablespoons of juice. Add the juice and the vinegar to the shallots. Season the mixture with the salt and a few grinds of black pepper. Let sit for 10 min. and then whisk in the olive oil. Reserve the vinaigrette at room temperature until ready to use (for up to 2 hours) or make up to one day in advance and store, tightly covered, in the refrigerator. Bring to room temperature and whisk again before using.
Trim any long stems from the arugula, wash the leaves well, and spin them dry. Put the arugula in a large bowl, cover with a slightly damp towel, and refrigerate until ready to toss.
With a serrated knife, remove the peel and pith from the blood oranges. Cut the oranges in half lengthwise and slice into 1/4-inch-thick half moons. Reserve in a small bowl at room temperature (or refrigerate, tightly wrapped, if working ahead).
Trim the stalks from the fennel bulb. Cut the bulb in half lengthwise through the core. Cut out the core in a wedge. Shave the fennel lengthwise with a vegetable peeler or on a mandoline. You will have ribbons, not crescents. (If you have crescents, you're slicing crosswise instead of lengthwise.)
Add the fennel to the arugula and toss. Whisk the vinaigrette to recombine. Add the vinaigrette to the arugula and fennel and toss again. Season with salt and pepper. Add the blood oranges and toss gently. Divide among salad plates and distribute the ricotta salata over each salad.
Serves 6 to 8.
Information
Category

Greens , Salads

Cuisine

North American