Asian Flatbread Cooking Tips
Asian Flatbreads, the Easy Way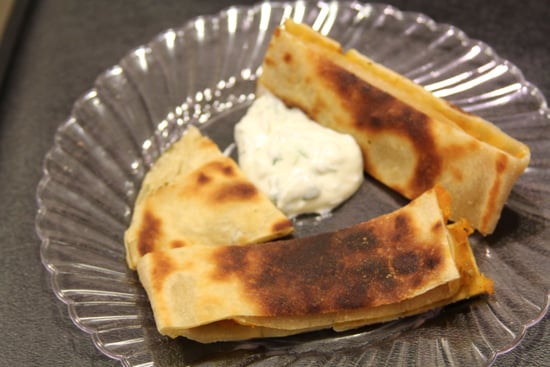 Breadmaking: the word alone may conjure images of tiresome kneading and dough-punching. But if you're writing it off just for that reason, then you're missing an entire category of the staple food that's easier on your schedule (not to mention your palms).
That's the message Thy Tran and Sharon Nahm had for home cooks at yesterday's SF Chefs seminar on Asian flatbreads. Tran, chef instructor of Wandering Spoon, and Nahm, chef at E & O Asian Kitchen, demonstrated how to make Chinese cong you bing (scallion pancakes), Afghan bolani, and Indian naan to a group that was astonished to learn these breads were fast enough for a weeknight. Planning on making any of these in the near future? Here are a few tips that are sure to prove helpful, regardless of what recipe you use.
Skip the standing mixer. Because flatbreads don't require as much kneading as other breads, leave the standing mixer on the cupboard, and dig in with your hands instead. Save the KitchenAid only for instances where you'll be doubling or tripling a flatbread recipe.
Consider the context before seasoning. Although Tran recommended adding a "pinch" of salt when making her flatbreads, she encouraged home cooks to consider how the bread would be consumed before seasoning. Eating your bread with curry, Southeast Asian-style? Then scale back on the salt. Consuming your scallion pancakes with cocktails? Then add more. Planning on stuffing them with a seasoned meat filling? Then definitely go light on the sodium. You get the idea.
See more flatbread-making suggestions after the break.
Go crazy with the fillings: Tran doesn't just fold in scallions and dried chiles; she also makes a variation of her Chinese pancake that includes lamb sautéed with cumin, chilies, and onions. For a dessert option, she swaps out the savory spices with butter and cinnamon. Likewise, Nahm stuffs her naan with fresh cheeses like paneer or ricotta, or chicken and pork cooked down with onion, turmeric, and garam masala.
Making a stuffing? Include this secret ingredient. "My secret ingredient is instant mashed potato flakes," Tran admitted during her part of the demonstration, explaining how potato flakes absorb moisture from the likes of sautéed vegetables and actually help the fillings bind together. "It's great for thickening sauces, too!" she added as a bonus.
Experiment with different oils. Adding oil to flatbreads will make them more malleable, less sticky, and easier to work with. Although lard was historically used to make flatbreads, play around with various oils to impart different flavors on your breads; try toasted sesame oil for Chinese flatbreads, or extra-virgin olive oil for Mediterranean flair. The more flavorful your oil, the less you'll need of it and the lighter your bread can be — a little walnut oil, for instance, goes a long way.
Have 'em your way. Although both Tran and Nahm cooked their breads in a cast-iron griddle or pan, they both encouraged trying them different ways, such as baked in the oven on a pizza stone or flame-cooked on a grill.
Give your bread the big chill. To extend the life of your flatbreads, try freezing them. Scallion pancakes, naan, and the like can be frozen on a sheet pan after they're rolled out and later transferred to plastic bags to keep in the freezer. Alternatively, cook the breads, allow them to cool to room temperature, and then freeze them; place them in a toaster oven to reheat.
Have you ever tried making naan, bolani, or scallion pancakes at home?