Asian Savory Oatmeal Recipe
Fresh Starts: Asian-Inspired Savory Oatmeal
Like Kate Gosselin and Heidi Montag, oatmeal's undergone a huge transformation in the past year. Of the three, oatmeal's come out on top. It's hit the quick service industry big time. In particular, savory oatmeal has blown up in the culinary stratosphere. Why? For one, it's a great approach to enjoying a heartier breakfast not laden with sugar — and also a way to enjoy oatmeal outside of breakfast hours.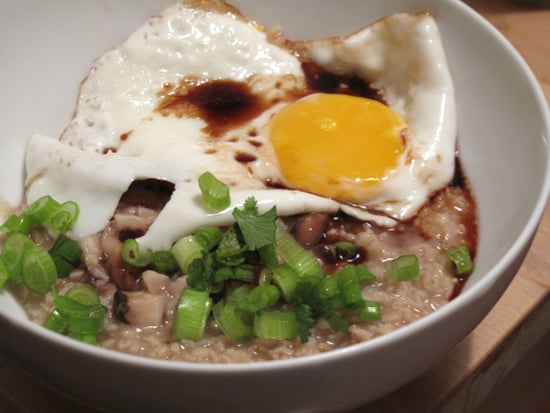 This version is inspired by my father, who ate oats topped with an egg nearly every day for 15 straight years. But I also drew influence from the Chinese rice porridge congee and added other mix-ins such as scallions, soy sauce, and shiitake mushrooms. Don't overlook the Sriracha; it doesn't add spiciness so much as it does another layer of flavor. For the recipe, read on.
Asian-Inspired Savory Oatmeal
From Susannah Chen
Ingredients
1 cup water
1/2 cup quick-cooking rolled oats, such as McCann's Irish Oatmeal
Cooking spray
1 extra-large egg
1/3 cup fresh shiitake mushrooms, diced
1-1/2 teaspoons soy sauce, plus more for drizzling
1/4 teaspoon Sriracha
1 teaspoon toasted sesame oil
1 tablespoon chopped scallions, white and light green parts only
Directions
Bring 1 cup water to a boil. Stir in rolled oats and cook, stirring frequently, over medium heat until thickened and creamy, about 1-1/2 minutes. Cover oats; remove from heat.
Heat a small frying pan over medium heat; coat evenly with cooking spray. Crack egg into pan and fry about 3 minutes, or until whites become opaque and yolk is slightly set, but still runny.
Remove egg and set aside; add diced shiitake mushrooms and cook 2-3 minutes until soft.
Add soy sauce and Sriracha to oatmeal; stir to combine. Transfer oats to a bowl and top with diced shiitake mushrooms and fried egg. Drizzle with sesame oil and soy sauce; top with chopped scallions.
Serves 1.
Information
Category

Other, Breakfast/Brunch

Cuisine

Other Asian