Asparagus-and-Ricotta Toasts Recipe
Not Exactly Seasonal, but Definitely a Delicious, Easy Appetizer
Being a native to the Bay Area, I've long been a seasonal eater. This means that I enjoy peaches and corn in the Summer and pears and squash in the Fall. However, there are certain fruits and vegetables that have become season-less due to the fact that they're always available at grocery stores, such as apples, strawberries, and one that used to be only around in Spring, asparagus.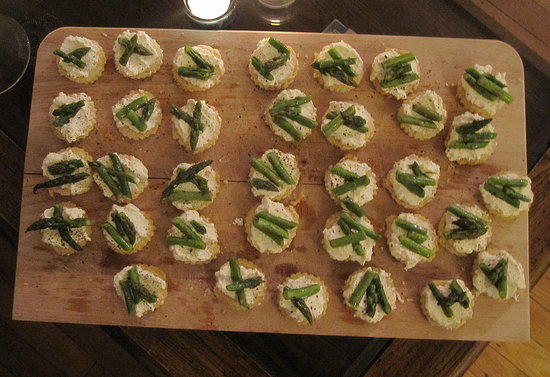 Now, let me clarify something. I'll avoid these ingredients at all costs until they are in season, but if a friend or family member begs me to serve them for his or her birthday, I can't say no! That's how I came to make these uncomplicated but delectable asparagus canapes. Crispy toast, creamy cheese, and fresh asparagus: what's not to love? They're an addictive bite; you won't be able to eat just one, so make the whole recipe. Get the technique after the break.
Ingredients
2 tablespoons extra-virgin olive oil, plus more for drizzling and brushing
8 slices packaged thin white bread
3/4 pound pencil-thin asparagus, cut into 2-inch lengths
Salt and freshly ground pepper
2 teaspoons fresh lemon juice
1/4 teaspoon finely grated lemon zest
1/2 cup fresh ricotta (5 ounces)
Directions
Preheat the oven to 350° and lightly brush a baking sheet with olive oil. Using a 2-inch round biscuit cutter, stamp 4 rounds out of each slice of bread and transfer to the baking sheet. Lightly brush the rounds with oil and toast for about 15 minutes, until lightly golden and slightly crisp.
Meanwhile, in a medium skillet, heat the 2 tablespoons of olive oil. Add the asparagus, season with salt and pepper and cook over high heat, stirring occasionally, until crisp-tender, about 1 minute. Add the lemon juice and let cool slightly.
In a small bowl, stir the lemon zest into the ricotta and season with salt and pepper. Spread the lemon ricotta on the toasts and top with the asparagus. Drizzle with oil and sprinkle with salt. Serve right away.
Serves 8.
Information
Category

Appetizers, Finger Foods

Cuisine

North American