Asparagus and Cucumber Salad Recipe
Perfectly Seasonal: Asparagus, Scallion, and Cucumber Salad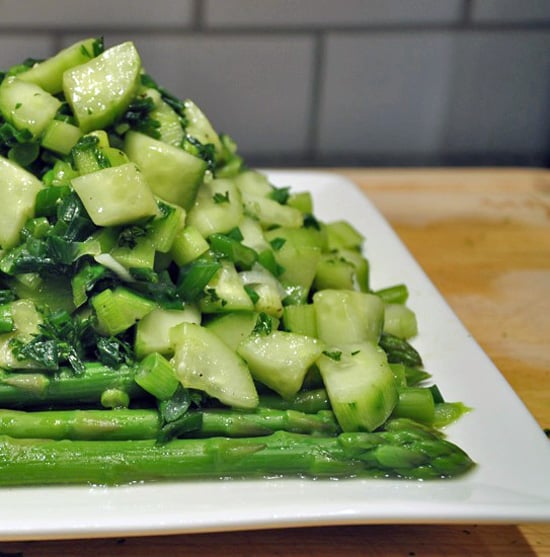 With all the green around you right now, give this very Springy salad a chance: a bed of asparagus, topped with cucumbers, scallions, and a zippy Dijon dressing is bound to make you fall in love with the season if you haven't already.
This is a perfect picnic or party salad, since the the dressing, asparagus, and green onions can be prepared a day in advance, provided they're stored separately before being quickly assembled. The finished salad is a hearty side dish that could easily double as a meal for two. Get the recipe for this crunchy green salad when you keep reading.
Asparagus, Scallion, and Cucumber Salad
Adapted from Bon Appétit
Ingredients
Dressing
2 tablespoons fresh lemon juice
3/4 tablespoon red wine vinegar
3/4 teaspoon Dijon mustard
3/4 teaspoon coarse kosher salt
1/2 teaspoon freshly ground black pepper
1/2 cup extra-virgin olive oil
Salad
2 pounds medium asparagus, trimmed
2 cups thinly sliced green onions
2 cups 1/4-inch cubes peeled seeded Kirby or English hothouse cucumbers
1 tablespoon chopped fresh Italian parsley
1 tablespoon chopped fresh chives
2 teaspoons chopped fresh tarragon
Directions
For dressing: Whisk first 5 ingredients in small bowl. Gradually whisk in oil.
For salad: Fill large bowl with lightly salted ice water; stir until salt dissolves. Cook asparagus in large pot of boiling salted water until crisp-tender, about 3 minutes. Drain, reserving 3 cups cooking liquid.
Transfer asparagus to bowl of salted ice water to cool.
Place green onions in another large bowl; pour hot reserved asparagus cooking liquid over onions and let stand until cool, about 30 minutes. Drain asparagus and green onions well. Transfer onions to clean kitchen towel and squeeze dry.
Combine green onions, cucumbers, and herbs in mixing bowl. Add dressing; toss to coat. Season with salt and pepper.
Arrange asparagus on platter. Spoon cucumber mixture over and serve.
Serves 6-8 as a side salad.
Information
Category

Vegetables, Salads