Asparagus and Egg Pizza
Snag What's Left of Spring With Asparagus and Pea Shoot Pizza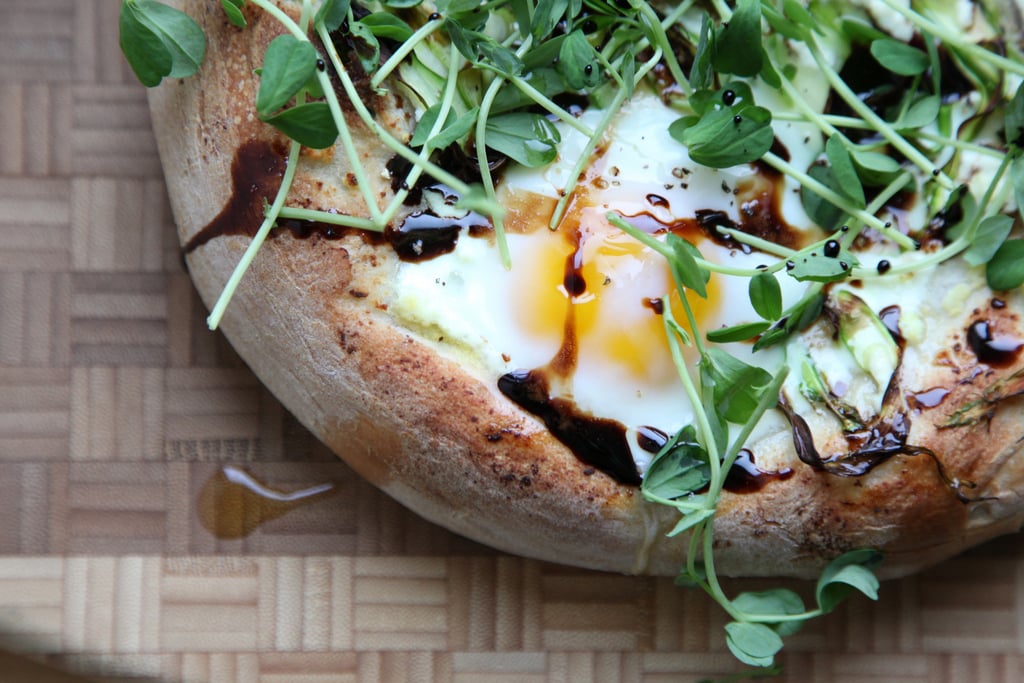 Come Sunday morning, you'll find me with toes tapping, eagerly anticipating my weekly stroll to my neighborhood farmers market. Part of the excitement, especially this time of year, comes from not knowing exactly what new treats I'll find as we hit peak harvest season. That being said, I'll be sad to see some Spring favorites vanish till next year. Like a chipmunk before Winter, I gorge myself on those treats, trying to get my fill before they're gone.
Many a meal over the past couple of months involved slender and snappy stalks of asparagus, what some might consider the quintessential Spring vegetable. I've eaten it every which way: blanched, roasted, grilled, and even larded with prosciutto (wow). This is not to say that I've grown sick of it: I've just satisfied my need to consume it in more elemental preparations, and at this time of year, I find myself turning to one of my favorite kitchen tricks. A few swipes of a vegetable peeler, and I'm left with a pile of willowy asparagus ribbons, fit to be tossed into a salad or (my favorite) atop a pizza.
This recipe is a fitting send-off until next year's bumper crop of spears graces my table once more. The vegetal flavors of asparagus and pea shoots mingle with creamy egg yolks and ricotta, tangy goat cheese, and a sweet-tart balsamic reduction in a way that's hard to beat. A few quick notes: make sure to generously drizzle the pizza with a nice finishing oil (citrus olive oil would be particularly exceptional) before serving, and while this is still good the next day as leftovers (and I sure do love pizza for breakfast), it's best enjoyed fresh from the oven, as the eggs can make the crust a bit soggy.
What are you waiting for? Grab a slice while you can.
Asparagus Ribbon Pizza
From Nicole Perry, POPSUGAR Food
Ingredients
Wheat bran or cornmeal, for dusting
1 ball pizza dough (store-bought is OK)
1/2 cup full-fat ricotta
Finely grated zest of 1 lemon
Kosher salt
5-8 asparagus stalks, woody ends snapped off, shaved into ribbons with a vegetable peeler
2-3 ounces fresh goat cheese, crumbled
2 eggs
A large handful of pea shoots, for garnish
Balsamic reduction, for drizzling
Extra-virgin olive oil, for drizzling
Directions
Preheat oven to 500ºF, setting a 10- to 12-inch cast-iron skillet in the oven at the same time.
Dust a large cutting board or clean countertop with wheat bran or cornmeal (this will ensure that the dough does not stick). Roll or stretch out the ball of pizza dough so that it's approximately a 10-inch circle (it will be slightly smaller if you're using a 10-inch skillet).
In a small mixing bowl, mix together the ricotta, lemon zest, and a hefty pinch of kosher salt. Spread the ricotta mixture evenly over the pizza dough, leaving a one-inch border for the crust.
Remove the cast-iron skillet from the oven, flip it upside down, and rub the exposed surface with oil using a paper towel. Carefully and quickly, arrange the pizza dough on top of the skillet.
Arrange the asparagus ribbons over the ricotta mixture, and dot with crumbled goat cheese. Put it back in the oven and cook for eight minutes, or until the crust is browned and puffy.
While the pizza bakes, crack each egg into a separate ramekin or custard cup. Remove the pizza from the oven and slide the eggs from the ramekins to the pizza. Put the pizza back in the oven and cook until the egg white is opaque and just barely set. The eggs will look ever so slightly underdone, but they will continue to cook with the residual heat of the pizza dough.
Move the pizza to a cutting board and generously blanket the pizza with pea shoots, then drizzle with balsamic reduction and olive oil. Sprinkle the eggs lightly with salt.
Serves two as a main course.
Information
Category

Main Dishes, Pizza

Cuisine

North American
Image Source: POPSUGAR Photography / Nicole Perry