 One way to take advantage of Spring's glorious bounty of asparagus is to make a tart. A savory tart that highlights the pure flavor of asparagus is welcome on any Easter menu. Both scrumptious and versatile, an asparagus tart can be served as a side, a dinner, or as a part of a brunch buffet.
Since we all have different levels of culinary confidence, I've found two delicious recipes. One takes advantage of frozen puff pastry and the other makes it from scratch. Choose which one suits your cookery needs or get inspired and make your own variation. For the recipes,
.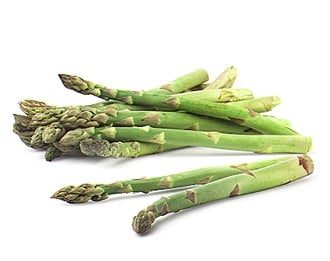 Ingredients
Flour, for work surface
1 sheet frozen puff pastry
5 1/2 ounces (2 cups) Gruyere cheese, shredded
1 1/2 pounds medium or thick asparagus
1 tablespoon olive oil
Salt and pepper
Directions
Preheat oven to 400°F.
On a floured surface, roll the puff pastry into a 16-by-10-inch rectangle. Trim uneven edges.
Place pastry on a baking sheet. With a sharp knife, lightly score pastry dough 1 inch in from the edges to mark a rectangle. Using a fork, pierce dough inside the markings at 1/2-inch intervals. Bake until golden, about 15 minutes.
Remove pastry shell from oven, and sprinkle with Gruyere.
Trim the bottoms of the asparagus spears to fit crosswise inside the tart shell; arrange in a single layer over Gruyere, alternating ends and tips. Brush with oil, and season with salt and pepper.
Bake until spears are tender, 20 to 25 minutes.
Serves 6.
Information
Category

Vegetables, Side Dishes

Cuisine

North American
Ingredients
Tart shell:
1 1/2 cups all-purpose flour
Pinch of salt
1 stick (4 ounces) unsalted butter, cut into small pieces
1 large egg, beaten
3 tablespoons ice water
Filling:
1/2 pound medium asparagus, trimmed
4 large eggs
1 cup milk
2 tablespoons unsalted butter, melted
1/2 teaspoon salt
1/2 cup freshly grated Parmigiano-Reggiano cheese (1 1/2 ounces)
Directions
Make the tart shell: in a medium bowl, combine the flour with the salt. Using a pastry blender or 2 knives, cut in the butter until the mixture resembles coarse meal.
Add the egg and water and mix with a fork until a dough forms.
Turn the dough out onto a lightly floured work surface and pat it into a disk. Wrap the dough in plastic and refrigerate until firm, at least 1 hour or overnight.
On a lightly floured surface, roll out the dough to a 13-inch round. Fold the dough in half and carefully transfer it to an 11-inch tart pan with a removable bottom. Unfold the dough and gently press it into the pan without stretching. Trim the overhang. Wrap the tart shell in plastic and refrigerate it until firm, about 1 hour, or overnight.
Preheat the oven to 350°F.
Line the tart shell with foil and fill with pie weights, dried beans or rice. Bake the shell for about 1 hour, or until lightly browned around the edge. Remove the pie weights and foil and bake the shell for 10 minutes, or until evenly browned and cooked through. Transfer to a rack to cool. Leave the oven on.
Make the filling: in a medium saucepan of boiling salted water, cook the asparagus until tender, about 4 minutes. Drain and rinse under cold running water. Drain again and pat dry with paper towels.
Arrange the asparagus in the tart shell with all the spears facing the same direction; trim them to fit if necessary.
In a medium bowl, whisk the eggs to mix. Beat in the milk, melted butter and salt. Pour the custard mixture over the asparagus and sprinkle the Parmigiano-Reggiano over the top.
Set the tart on a baking sheet and bake for about 45 minutes, or until the custard is just set. Transfer the tart to a rack to cool for about 10 minutes, then cut into 8 wedges and serve warm or at room temperature.
Serves 8.
Make ahead: the tart shell can be baked, cooled, and kept well wrapped in its pan at room temperature for up to 1 day.
Information
Category

Vegetables, Side Dishes

Cuisine

North American