Aspen Food and Wine Cooking Tips
9 Kitchen Tips Gleaned From Aspen's Greatest Chefs
At the Food & Wine Classic in Aspen, cooking demonstrations and wine seminars take place all the way from Friday morning to Sunday afternoon, and one might sit down to learn about any cooking topic, from knife skills 101 to a primer on the Northern whites of Italy. This year, I sat in on each of these seminars — led by Andrew Zimmern, Bobby Flay, and Michael Symon, respectively — where I learned at least a few great tips from each star chef, regardless of the discussion at hand.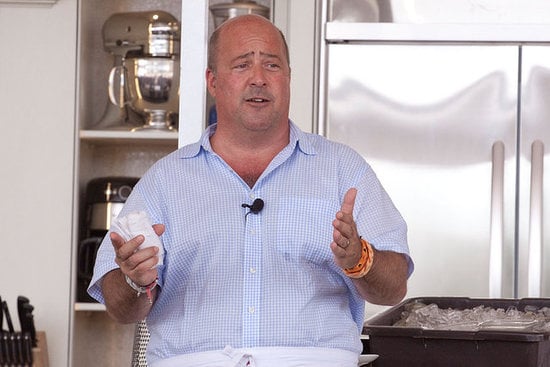 Source: WireImage
Behold: the three best tips I learned from three of this weekend's biggest celebrity chefs.
Andrew Zimmern
If you've cooked a steak and it tastes grainy, then that's because you didn't let the meat rest.
Because wild game is so lean, cook hooved animals like antelope, venison, elk, or kudu to rare, and then let them sit until they've reached medium rare before serving.
Cut the silverskin off of lamb, pork, or beef loin, then save it for stock. The silverskin itself doesn't have much flavor, but little bits of meat stuck to it do.
Photo: Susannah Chen
Bobby Flay
Use a coffee grinder to grind pepper (just don't use the same grinder for your coffee beans!). Grind enough to last you several days at a time.
Make a smoked chile butter to serve with pan-cooked seafood by combining chipotles in adobo, unsalted butter, salt, pepper, and honey (to quell the heat).
Help fish brown in the pan by adding a pat of compound butter underneath the fillet.
Source: WireImage
Michael Symon
Add lemon juice to stop butter from overbrowning in the pan.
Store gnocchi in the refrigerator a day ahead; this helps the pasta form a little skin.
Make a simple Italian pasta sauce with olive oil, butter, parmesan, fresh herbs, and pasta water.
Don't miss any of our coverage of this past weekend's Food & Wine Classic.