Bacon and Egg Sandwich Recipe
The Perfect Hangover Remedy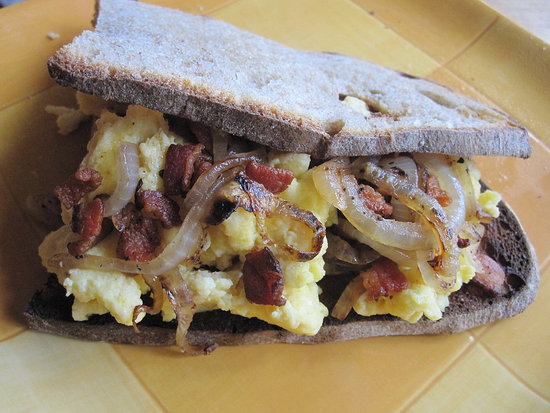 Nothing cures a hangover like a bacon and egg sandwich! This is my current favorite recipe: it's a mixture of bacon, onion, and eggs piled high on bread. It's simple but absolutely delicious. The fluffy eggs complement the sweet caramelized onions and salty crispy bacon that's surrounded by warm bread with a soft exterior and crunchy interior. For a little kick, add Tapatío or your preferred hot sauce. The original recipe calls for a loaf of ciabatta, however, you can use whatever bread you have on hand. Also, feel free to adapt the method to suit your needs. Vegetarian? Omit the bacon. Don't have aged cheddar on hand? Substitute parmesan or monterey jack. Ready to fill up on this finger-licking good brunch dish? Read more.
Ingredients
2 slices of bacon
1 large ciabatta loaf, halved horizontally and cut crosswise into quarters
Salt and freshly ground black pepper
1 1/2 tablespoons extra-virgin olive oil
1 red onion, sliced 1/4-inch thick
8 large eggs
Several dashes of hot sauce
2 tablespoons unsalted butter
1 cup (4 ounces) grated aged cheddar cheese
Directions
In a medium skillet over medium-high heat, cook the bacon until crisp, 3 to 5 minutes. Transfer the bacon to a paper-towel-lined plate. Reserve the pan fat.
Preheat the broiler.
Place the 8 pieces of bread cut side up on a baking sheet. Drizzle with bacon fat and season lightly.
Heat the oil in a grill pan or skillet over high heat until hot, but not smoking. Grill or sear the onions with a pinch of salt and pepper until charred and tender, 5 to 7 minutes, turning once. Crumble in the bacon.
In a large bowl, whisk together the eggs, salt and pepper, and the hot sauce until slightly frothy. Melt the butter in a nonstick or other skillet. Add the eggs and sprinkle with cheese. Once the eggs have begun to very lightly set, begin to stir them gently, using a heat-proof rubber spatula. Make sure to scrape all edges of the pan. Continue this process until the eggs are creamy and just cooked through, about 2 minutes. Remove from the heat and cover.
Broil the bread until lightly toasted, about 1 minute (watch closely to see that it does not burn). Divide 4 slices of bread among 4 serving plates. Place some of the scrambled eggs on each slice. Spoon the onion-bacon mixture over the eggs. Top with the remaining slices of bread.
Serves 4.
Information
Category

Eggs, Breakfast/Brunch

Cuisine

North American