Bacon-Wrapped Dates Vegetarian Alternative Recipe
Killer Vegetarian App: Goat Cheese- and Pistachio-Stuffed Dates
Bacon-wrapped dates are like morsels of salty-sweet magnificence. Thus, it's tragic that our vegetarian friends can't enjoy them. I've found the next best thing: this vegetarian appetizer for goat cheese- and pistachio-stuffed dates.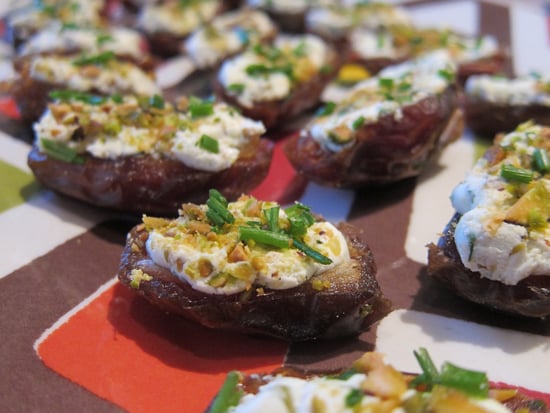 Capitalizing on the magical combination of dessert-worthy dates and a salty sidekick (in the form of pistachio-whipped goat cheese), this recipe packs so much flavor into every bite you'll forget about your bacon-wrapped past. But the biggest revelation are the chives; the herb combines with the creamy cheese for an effect that's like a high-end sour cream and chive potato chip. It's sophistication and childhood nostalgia all in one.
Though pitting and halving the dates is time-consuming — especially if you're doubling or tripling the recipe for a party — these apps are super-easy to make ahead. They are just as delicious after a few days in the fridge, though best served at room temperature. Get this vegetarian appetizer recipe.
Goat-Cheese and Pistachio-Stuffed Dates
From Everyday Food
Ingredients
4 ounces soft goat cheese
3 tablespoons shelled, salted pistachios, toasted and coarsely chopped
1 tablespoon finely chopped fresh chives, plus more for garnish
Freshly ground pepper
8 plump, soft dried dates, pitted and halved lengthwise
Directions
In a small bowl, combine cheese, 2 tablespoons pistachios, and 1 tablespoon chives until smooth. Season with pepper.
Arrange dates, cut side up, on a platter. Using a resealable plastic bag with 1 inch cut off of one corner, pipe goat-cheese mixture onto each date half to cover, or simply spread with a butter knife.
Garnish dates with remaining pistachios and more chives.
Makes 16, serves 8.
Information
Category

Appetizers, Finger Foods

Cuisine

North American