Baileys Coffee Recipe
Bring on the Baileys Hazelnut Liqueur This Holiday Season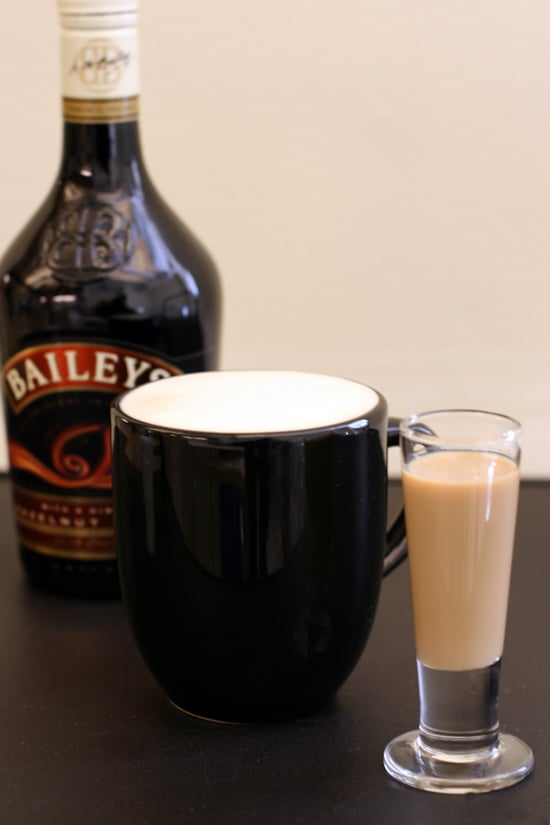 When the fire is ablaze, your feet are snug in your favorite pair of fuzzy socks, and your stomach is full from a heavy Winter dinner, there's only one thing that's missing from this equation: a little Baileys. The makers of this Irish cream whiskey recently released a new flavor you can enjoy this season: Baileys With a Hint of Hazelnut. The nutty flavor combines effortlessly with the chocolate and tastes like Nutella in liquid form. My absolute favorite method of preparation is quite simple: just pour the syrupy chocolate liquor over large cubes of ice and allow the Irish whiskey to work its warming magic.
When it's even too cold to serve iced beverages, the next best offering is combining Baileys with hot coffee. There's no need to add any milk; the spiked cream rounds out any bitterness from the coffee and offers sweet, chocolatey notes. Keep it this way if you're looking for a more robust after-dinner drink. Otherwise, boost the creamy, chocolate flavor and mask the liquor by adding a few tablespoons of hot cocoa mix. This hot drink, made from the new Baileys flavor and brewed coffee, might be as close to a Nutella latte as we'll ever get.
Baileys Hazelnut Coffee
Adapted from Baileys
Ingredients
6 ounces fresh brewed coffee
1.5 ounces (1 shot) Baileys With a Hint of Hazelnut
2 tablespoons hot cocoa mix, optional
Whipped cream or milk foam, to top
Directions
Pour coffee and Baileys into a large mug. If you would like more chocolatey flavor, stir in hot cocoa mix (optional). Top with whipped cream or milk foam. Serve immediately.
Serves 1.
Information
Category

Drinks, Coffee

Cuisine

North American