Baked Goat Cheese Recipe
Killer App: Marinated Baked Goat Cheese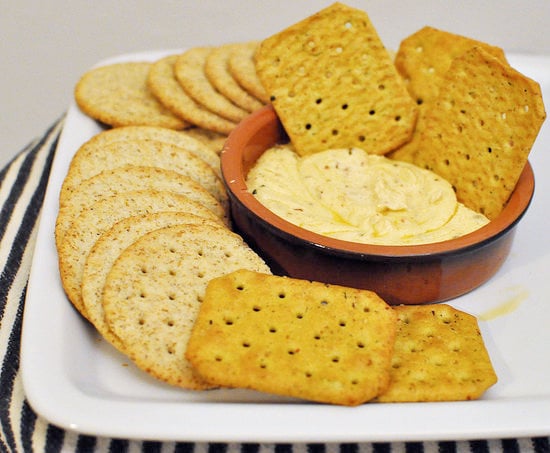 Marinated goat cheese at the market can be pricey, but it's one of the easiest things to make in your own kitchen. I picked up a log of chèvre and cut it into six even slices. Then, I raided the pantry and fridge for olive oil, vinegar, and herbs; like many marinades, you can easily alter it to suit what you have on hand. Marinate the goat cheese rounds for a couple hours in the fridge and up to a week. I baked the rounds to make an easy appetizer but can't wait to try the leftovers on homemade pizza. The remaining marinade is delicious drizzled on some veggies, so definitely use it too! Ready to add a little more flavor to goat cheese? Keep reading!
Marinated Baked Goat Cheese
From Saveur
Ingredients
6 small rounds goat cheese, about 1 oz. each
1/2 cup extra-virgin lemon olive oil or regular olive oil
1/4 cup walnut oil
2 tbsp. red wine vinegar
1 tbsp. chopped fresh lemon thyme or thyme
1 tbsp. finely chopped chives
1 tbsp. whole black peppercorns
1/2 tsp. crushed red chili flakes
3 dried bay leaves
Kosher salt, to taste
Toasted country-style bread or crackers, for serving
Directions
Put goat cheese rounds into an 8-by-8-inch baking dish. In a medium bowl, whisk together olive oil, walnut oil, vinegar, thyme, chives, peppercorns, chili flakes, and bay leaves; pour over goat cheese. Cover dish with plastic wrap and let sit at room temperature, turning occasionally, for 1 hour or refrigerate for up to 1 week.
Heat oven to 425°. Transfer dish to a baking sheet, unwrap, season cheese with salt, and bake until warmed through and slightly soft, 6–8 minutes. To serve, transfer cheese to a platter and serve with toasted bread or crackers.
Serves 6 to 8.
Information
Category

Dips, Appetizers