Baked Mashed Potatoes
Use Up Your Russets With a Cheesy Mashed Potato Bake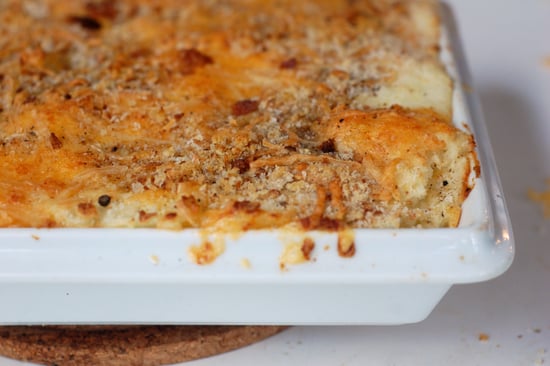 If you find yourself drowning in russet potatoes after Thanksgiving – I know I usually tend to buy way too much – fret not. Here's a creative way to use them up. Mash them, and then bake them with a cheesy, breadcrumb crust for a crunchy, creamy, and indulgent dish. You can also use any leftover mashed potatoes you have from your holiday feast and just skip a few of the recipe steps! Keep on going for the recipe!
Cheesy Baked Mashed Potatoes
From Camilla Salem, YumSugar
Ingredients
8 russet potatoes, peeled and quartered
1/2 stick salted butter, cubed, plus more for baking dish
1/2 cup milk or cream
2 teaspoons salt
1 1/2 cup grated cheddar cheese
1 cup grated parmesan cheese
1 cup breadcrumbs
2 tablespoons olive oil
Directions
In a large pot, boil potatoes until tender when pierced with a fork. Strain and place into a large bowl for mashing.
Add butter, milk or cream, and salt. Mash by hand or with an immersion blender until smooth.
Butter a baking or casserole dish. Spoon mashed potatoes into baking dish and smooth the surface with a spoon or spatula.

Evenly sprinkle cheddar and parmesan cheeses over the surface, then breadcrumbs. Drizzle olive oil over the topping.

Bake in oven until topping is brown and bubbly.
Serves 8-10
Information
Category

Side Dishes