Baked Oysters New Orleans Style
Cozy Up to New Orleans Baked Oysters
I'll never turn down a raw oyster, but when it comes to wooing someone with a cozy, baked version of the supposed aphrodisiac, this creole recipe is absolutely seductive. These oysters often get me invited back to parties (as long as I bring the oysters) and succeed in winning over oyster haters.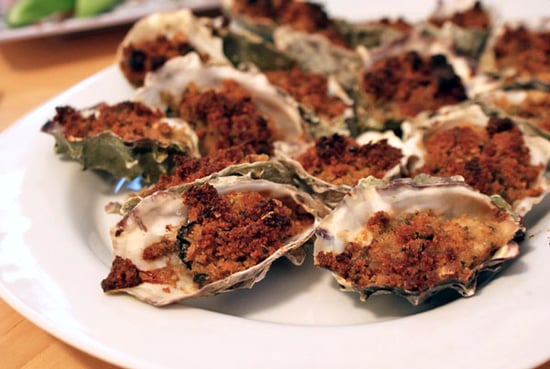 Shuck your own oysters and serve them on the half shell, or buy a couple pints preshucked and bake them in ramekins or a casserole dish. Once the shucking is out of the way, this dish is incredibly easy, somewhat sultry, and just a little bit rich. Try it as a side dish or even as a main course. Here's how to bake up some oysters.
Baked Oysters
Adapted from The New Orleans Cookbook
Ingredients
1/4 cup salted butter
1/4 cup olive oil
2/3 cup Italian bread crumbs
1/2 teaspoon salt
1/2 teaspoon freshly ground pepper
1/8 teaspoon cayenne
1/2 teaspoon dried tarragon
1/2 teaspoon oregano
2 tablespoons finely minced fresh parsley
2 teaspoons finely minced garlic
2 tablespoons finely chopped scallions (green parts only)
1 1/2 pint fresh shucked oysters (about 2 1/2 dozen medium-sized oysters), drained
Directions
In a heavy saucepan, melt the butter over low heat. Mix in the olive oil and heat a few minutes longer. Add garlic, scallions, and all of the spices, and heat until soft.
Add the bread crumbs and mix well, then remove the pan from the heat. Place the well-drained oysters in individual ramekins or gratin dishes, in a nine-by-nine-inch casserole dish, or individually on the half shells. Spoon equal portions of the bread crumb mixture over each.
Bake in a preheated 450ºF oven until the topping is well browned, about 18 minutes. Set on dinner plates and serve immediately.
Serves 6 as a side dish or appetizer.
Information
Category

Side Dishes, Seafood

Cuisine

Cajun/Creole