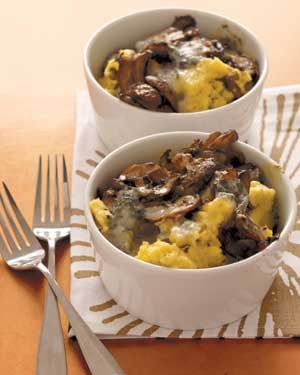 For a quick and comforting meal, turn to instant polenta. The rich Italian staple is simple to prepare and fun to flavor. While you could top it with all sorts of vegetables and cheeses, this recipe uses mushrooms and gorgonzola. It makes for a satisfying vegetarian dinner that's elegant enough to entertain with. Serve a mixed green and roasted asparagus salad on the side and pour a light, smooth red wine. To make it an entire meal, offer olives, grissini, and burrata for appetizers. Follow the polenta and mushrooms with a no-fuss puff pastry strawberry tart. Get the recipe and
.


Ingredients
1 1/2 cups instant polenta
2 teaspoons kosher salt
1 tablespoon unsalted butter, plus more for the dish
1/2 cup (4 ounces) cream cheese
1 cup (4 ounces) crumbled gorgonzola
4 tablespoons olive oil
1 1/2 pounds pounds cremini or button mushrooms, stems discarded and caps thinly sliced
1 small shallot, finely chopped
1/2 teaspoon black pepper
2 teaspoons fresh thyme leaves
Directions
Heat oven to 350° F.
Bring 4 1/2 cups water to a boil. Whisking constantly, slowly add the polenta. Add 1 1/2 teaspoons of the salt and the butter. Reduce heat and simmer, stirring frequently, for 10 to 15 minutes.
Stir in the cream cheese and 1/2 cup of the gorgonzola.
Meanwhile, in a large skillet, over medium-high heat, warm 2 tablespoons of the oil. Add half the mushrooms and cook for 6 minutes. Add half the shallot and cook for 2 minutes more. Transfer to a plate.
Repeat with the remaining oil, mushrooms, and shallot. Season the mushrooms with the pepper, thyme, and the remaining salt.
Butter an 8- or 9-inch baking dish or eight 6-ounce ramekins. Stir 2/3 of the mushrooms into the polenta and transfer to the prepared dish or ramekins. Top with the remaining mushrooms and gorgonzola. Bake, uncovered, until the gorgonzola has melted, about 15 minutes.
Serves 6-8.
Information
Category

Grains , Main Dishes

Cuisine

Italian