Ratatouille may be the perfect Summer-to-Fall transition dish. It savors the heartiest of late Summer's vegetables, namely eggplant and zucchini, but offers the warm, slow-cooked comfort you need in cooler weather. It's traditionally prepared as a stew on the stove top, but this simple recipe roasts the vegetables in the oven along with bell peppers and plum tomatoes, then serves them over polenta.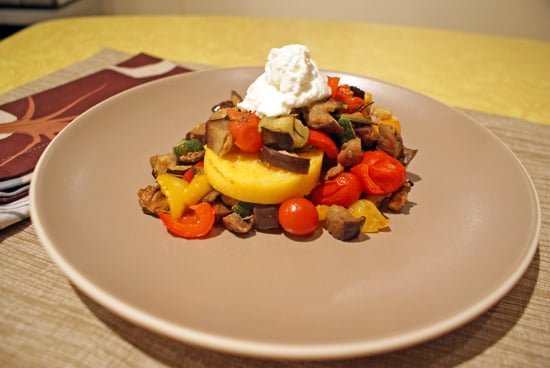 The recipe calls for fresh shucked corn stirred into creamy polenta, but since corn is on its way out of the farmers market, I left it out and opted for oven-baked polenta instead. Also, I subbed in Greek yogurt for the ricotta, just because I thought it would be interesting, and it was. Ease into Autumn with this easy recipe after the break:
Though the recipe says it serves two as a main dish, I found it yielded even more: about four servings depending on how hungry everyone is.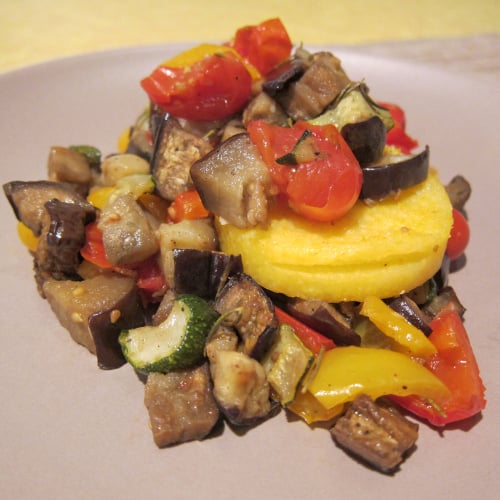 Fresh Corn Polenta With Roasted Ratatouille and Ricotta
Ingredients
2 small eggplants
2 small zucchini
2 small red bell peppers
2 large whole rosemary branches
4 tablespoons plus 1 teaspoon extra-virgin olive oil
salt and pepper to taste
1 pint cherry tomatoes
2 cloves unpeeled garlic
lemon juice
1 bay leaf
3/4 teaspoon salt
1 cup polenta
1 1/2 cups fresh corn kernels (sliced from 2 ears shucked corn)
Fresh ricotta
Basil leaves
Directions
Serves 2 as a main course or 4 as a side.
Heat oven to 400 degrees. Stem and cut 2 small eggplants, 2 small zucchini and 2 small red bell peppers into 1-inch chunks. In a large bowl, toss vegetables with 1 large whole rosemary branch and 3 1/2 tablespoons extra-virgin olive oil and season generously with salt and pepper. Spread vegetables on a large baking sheet.

In a small bowl, toss 1 pint cherry tomatoes, 2 cloves unpeeled garlic and a second whole rosemary branch with 1/2 tablespoon extra-virgin olive oil; season with salt and pepper. Spread mixture on a small baking sheet.
Transfer both baking sheets to the oven. Roast vegetables, stirring occasionally, until they are tender and caramelized: about 25 minutes for the tomatoes and garlic; 30-35 minutes for the eggplant, zucchini and peppers. Let vegetables cool for a few minutes. Slip garlic from skins and place cloves in a small bowl. Add pinch of salt and mash to a paste; whisk in 1 teaspoon extra-virgin olive oil.
In a large bowl, combine the garlic mixture with the tomatoes, eggplants, zucchini and peppers. Taste and add more salt and a few drops lemon juice, if needed.
Make the polenta: In a medium saucepan, bring 3 cups water, 1 bay leaf and 3/4 teaspoon salt to a boil. Slowly whisk in 1 cup polenta and simmer, stirring frequently, until it is thick and almost tender, about 10 minutes. Stir 1 1/2 cups fresh corn kernels (sliced from 2 ears shucked corn) into the polenta and simmer 5 minutes more.
Spoon polenta onto serving plates. Top with roasted vegetables, a dollop of fresh ricotta and a few torn basil leaves.
Information
Category

Other, Main Dishes

Cuisine

Italian