Baked Ratatouille Recipe With Polenta
Fresh Corn Polenta With Roasted Ratatouille and Ricotta
Fresh Corn Polenta With Roasted Ratatouille and Ricotta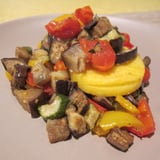 Ingredients
2 small eggplants
2 small zucchini
2 small red bell peppers
2 large whole rosemary branches
4 tablespoons plus 1 teaspoon extra-virgin olive oil
salt and pepper to taste
1 pint cherry tomatoes
2 cloves unpeeled garlic
lemon juice
1 bay leaf
3/4 teaspoon salt
1 cup polenta
1 1/2 cups fresh corn kernels (sliced from 2 ears shucked corn)
Fresh ricotta
Basil leaves
Directions
Serves 2 as a main course or 4 as a side.
Heat oven to 400 degrees. Stem and cut 2 small eggplants, 2 small zucchini and 2 small red bell peppers into 1-inch chunks. In a large bowl, toss vegetables with 1 large whole rosemary branch and 3 1/2 tablespoons extra-virgin olive oil and season generously with salt and pepper. Spread vegetables on a large baking sheet.

In a small bowl, toss 1 pint cherry tomatoes, 2 cloves unpeeled garlic and a second whole rosemary branch with 1/2 tablespoon extra-virgin olive oil; season with salt and pepper. Spread mixture on a small baking sheet.
Transfer both baking sheets to the oven. Roast vegetables, stirring occasionally, until they are tender and caramelized: about 25 minutes for the tomatoes and garlic; 30-35 minutes for the eggplant, zucchini and peppers. Let vegetables cool for a few minutes. Slip garlic from skins and place cloves in a small bowl. Add pinch of salt and mash to a paste; whisk in 1 teaspoon extra-virgin olive oil.
In a large bowl, combine the garlic mixture with the tomatoes, eggplants, zucchini and peppers. Taste and add more salt and a few drops lemon juice, if needed.
Make the polenta: In a medium saucepan, bring 3 cups water, 1 bay leaf and 3/4 teaspoon salt to a boil. Slowly whisk in 1 cup polenta and simmer, stirring frequently, until it is thick and almost tender, about 10 minutes. Stir 1 1/2 cups fresh corn kernels (sliced from 2 ears shucked corn) into the polenta and simmer 5 minutes more.
Spoon polenta onto serving plates. Top with roasted vegetables, a dollop of fresh ricotta and a few torn basil leaves.
Information
Category

Other, Main Dishes

Cuisine

Italian