Baked Vegetarian Chimichanga Recipe
Fast & Easy Dinner: Chimichangas With Tomato Salsa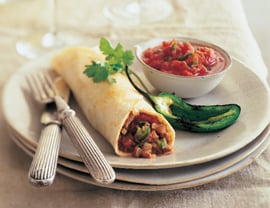 Traditionally, chimichangas are deep-fried and filled with meat. However, this innovative recipe remakes the classic Mexican dish into something healthy and vegetarian-friendly.
Fat-free soy meat is combined with cumin, chili powder, onions, garlic, diced tomatoes, and roasted jalapeño peppers to make a filling that's well-seasoned and provocative.


The chimichangas require half an hour of bake time, resulting in a crisp, crunchy exterior and bubbly, oozing interior. Want to experiment with this cheese-free south of the border favorite? Get the recipe after the break.
Ingredients
1 medium onion, chopped
1 large clove garlic, minced
1 1/2 lbs. fat-free ground soy "meat"
14.5-oz. can low-sodium diced tomatoes
2 tsp. chopped roasted jalapeno pepper
2 tsp. chili powder
1 tsp. ground cumin
6 medium (7 1/2-inch) fat-free flour tortillas
Fresh tomato salsa, for serving
Directions
Preheat oven to 350F. Coat baking sheet once with cooking spray. Set aside.
Coat large skillet with cooking spray and place over low heat. Add onion; cook, stirring often, until just softened, about 3 minutes. Add garlic and stir 30 seconds.
Add soy "meat," breaking it up with a wooden spoon. Stir in tomatoes, roasted jalapeno, chili powder and cumin. Mix well. Cover and cook, stirring occasionally, 8 minutes.
Meanwhile, stack tortillas, wrap in foil and bake until warm and pliable, 8 to 10 minutes. (Alternatively, using tongs, heat each tortilla over an open flame.)
Place tortillas on work surface and spoon about 3/4 cup "meat" filling in center of each. Fold in sides and roll up, jelly-roll style. Place on prepared baking sheet, seam side down. Bake until chimichangas are lightly browned, about 30 minutes. Serve hot with salsa.
Serves 4.
Information
Category

Other, Main Dishes

Cuisine

Mexican