Banana Pudding Recipe
Celebrate Mardi Gras With Banana Pudding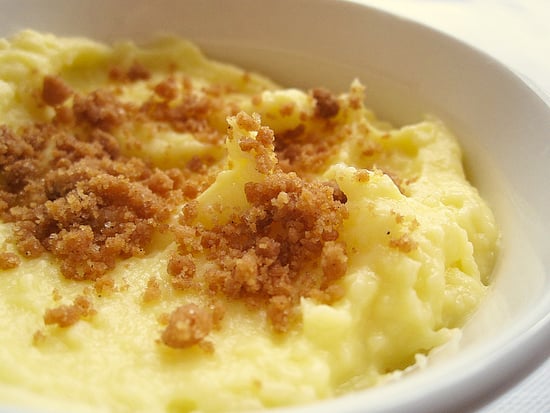 If you're interested in cooking authentic Louisiana fare for Mardi Gras, look toward a plethora of awesome cookbooks that have come from New Orleans recently. Cooking Up a Storm features tons of classic savory recipes, and when it comes to desserts, you can't go wrong with Damn Good Sweet.
It's full of delicious-sounding treats like red velvet cake, lemon icebox pie, and the creamy luscious banana pudding seen here.
This pudding is relatively quick and easy to prepare; however, you do need several hours for it to chill. The vanilla wafer topping is a necessary step, as it adds a crisp textural contrast to the thick smooth pudding. Next time I make this, I will serve it with a dollop of whipped cream as well. Want to look at the recipe? Read more.
Ingredients
For the pudding:
5 large egg yolks
1/2 cup sugar
1/4 cup cornstarch
1/4 teaspoon salt
2 cups whole milk
3 tablespoons banana liqueur (or 1 teaspoon banana flavoring)
2 teaspoons vanilla extract
2 tablespoons unsalted butter
2 ripe bananas
For the crumble:
1 cup vanilla wafers (about 15 cookies)
2 teaspoons sugar
1/4 teaspoon ground cinnamon
Pinch salt
1 tablespoon unsalted butter, melted
Directions
To make the pudding: Whisk the egg yolks, sugar, cornstarch, and salt together in a medium bowl and set aside.
Bring the milk to a boil in a medium saucepan. Remove from the heat and whisk a little at a time into the egg mixture. Once the bottom of the bowl is warm, slowly whisk in the remaining hot milk.
Pour the mixture back into a clean medium saucepan (cleaning the saucepan prevents the pudding from scorching), add the banana liqueur, and whisk over medium-low heat until it thickens, about 2 minutes. Cook while constantly whisking until the pudding is glossy and quite thick, 1 1/2 to 2 minutes longer. Transfer the pudding to a clean bowl.
Add the vanilla and butter and gently whisk until the butter is completely melted and incorporated. Press a piece of plastic wrap onto the surface of the pudding to prevent a skin from forming. Refrigerate for 4 hours.
To make the crumble: While the pudding sets, heat the oven to 325 degrees F. Line a rimmed baking sheet with parchment paper and set aside.
Place the wafers in a resealable plastic bag and seal (make sure there is no air in the bag prior to sealing). Using a tolling pin or flat-bottomed saucepan or pot, crush the vanilla wafers until they're coarsely ground.
Transfer them to a small bowl and stir in the sugar, cinnamon, and salt. Use a spoon to evenly stir in the melted butter, transfer to the prepared baking sheet, and toast in the oven until brown and fragrant, 12 to 15 minutes. Remove from the oven and set aside to cool. (The crumbs can be stored in an airtight container for up to 5 days at room temperature or frozen for up to 2 months; re-crisp in a 325 degrees F oven for 6 to 7 minutes if necessary.)
To serve: Slice the bananas in half crosswise and then slice in half lengthwise so you have 4 quarters. Slice the banana quarters crosswise into 1/2-inch pieces and divide between 6 custard cups or martini glasses (sprinkle with a squeeze of lemon juice if you like — this helps prevent browning).
Whisk the pudding until it is soft and smooth, about 30 seconds, and then divide it between custard cups.
Top with the vanilla wafer mixture and serve. (If not served immediately, the pudding will keep in the refrigerator for up to 3 days, with plastic wrap intact. Sprinkle the crumbs on just before serving).
Serves 6.
Information
Category

Desserts, Puddings/Mousse

Cuisine

North American