Banana Walnut Pancakes
Who Needs Muffins When You Can Make Banana Nut Pancakes?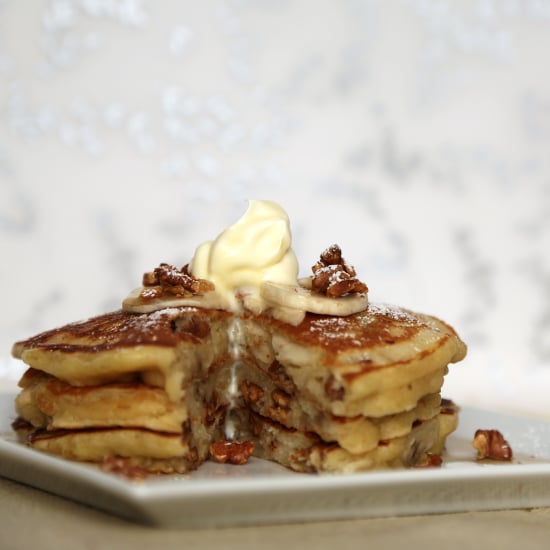 Part of the fun of making homemade buttermilk pancakes is adding mix-ins, and these banana walnut pancakes are a delicious way to start your morning.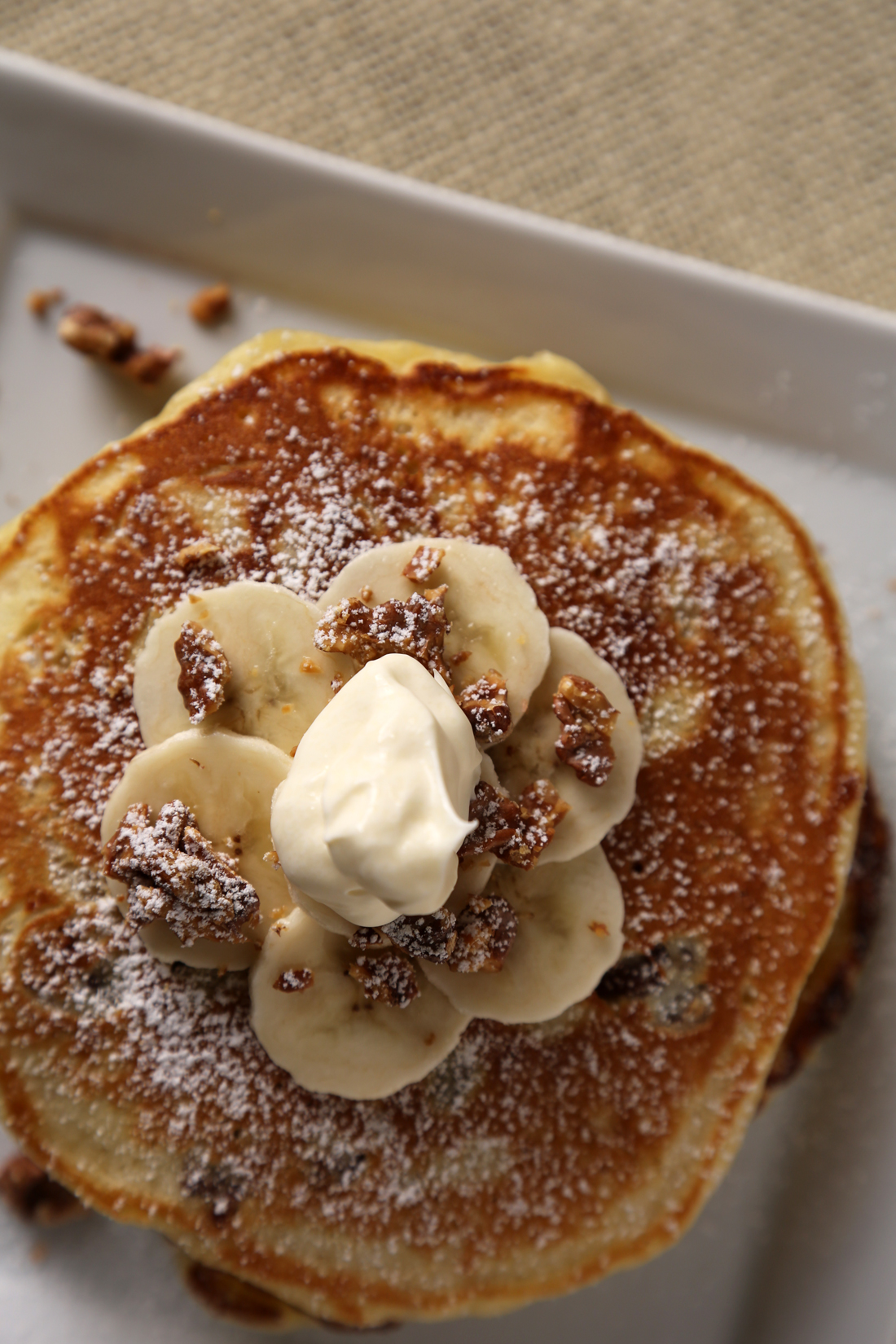 A sprinkle of powdered sugar and a dollop of crème fraiche make them extra special.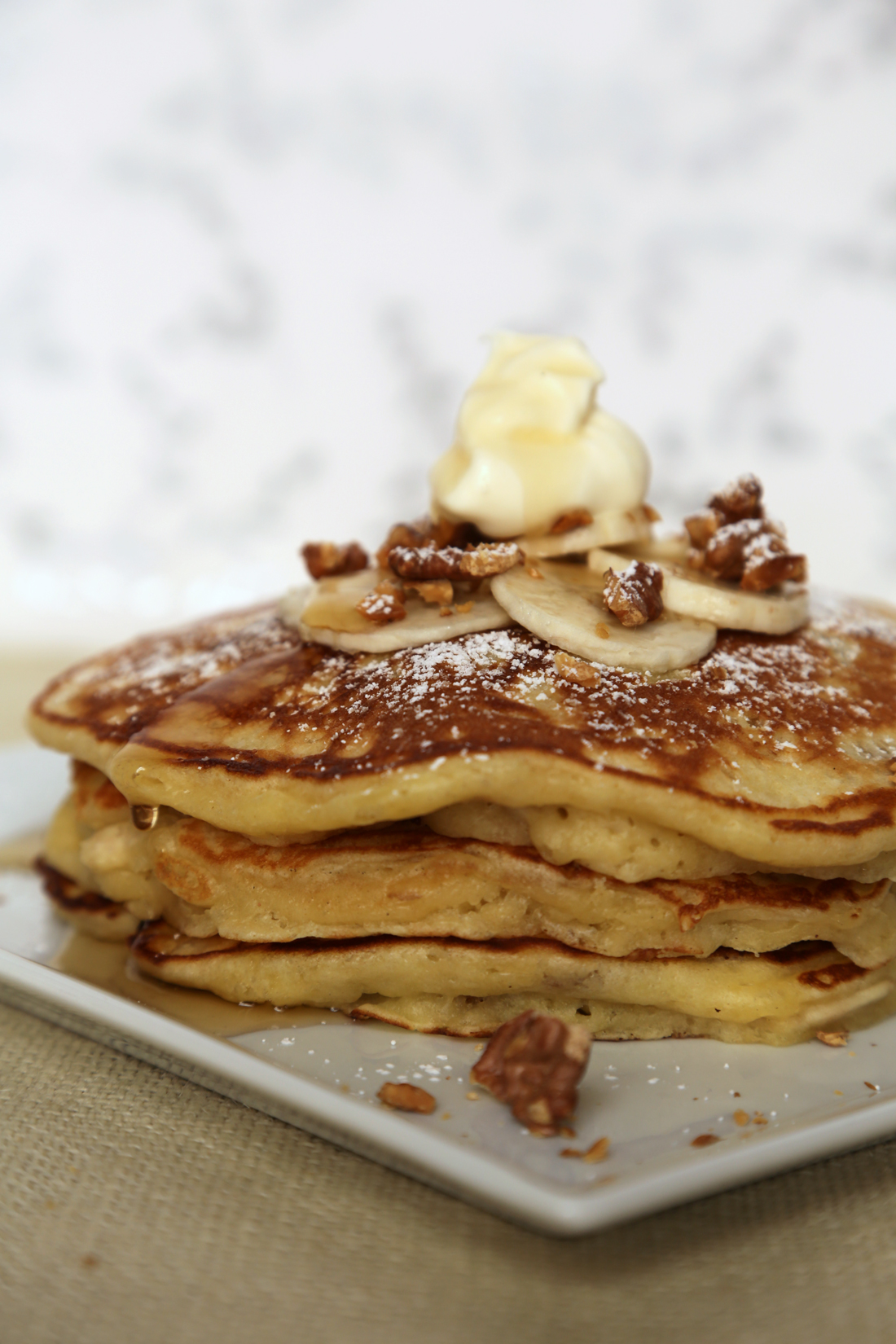 Fluffy and moist, with a nice crunch from the walnuts, these banana nut pancakes will get even the grumpiest morning person to skip happily out of bed.
Keep reading to see the recipe.
Banana Walnut Pancakes

From Anna Monette Roberts, POPSUGAR Food
Ingredients
2 cups all-purpose flour
1/4 cup granulated sugar
1 teaspoon baking powder
1/2 teaspoon baking soda
1/4 teaspoon salt
2 eggs
2 cups buttermilk
1-1/2 cups walnut pieces, toasted and cooled
3 bananas, thinly sliced
1/2 cup salted butter, melted and cooled slightly
Clarified butter or high-heat vegetable oil, for cooking
Powdered sugar, sifted, for garnish
Crème fraiche or whipped cream, for garnish
Directions
In a medium bowl, whisk together flour, sugar, baking powder, baking soda, and salt. Set aside.
In a large bowl, whisk eggs. Whisk in buttermilk and melted butter. Stir flour mixture into buttermilk mixture until just combined (lumps are OK). Fold 1 cup walnut pieces and 2 bananas, thinly sliced, into pancake batter.
Heat the oven to 200°F and place an oven-safe plate or baking dish inside. Heat a large nonstick skillet on the stove top over medium heat. Melt 1/4 teaspoon of butter on skillet. Dollop 1/2 cup batter onto skillet; depending on the size of the skillet, it may fit 2-3 pancakes. Cook pancakes until bubbles rise to the surface and pop, about 2 minutes. Carefully flip pancakes and cook another 2 minutes.
Transfer cooked pancakes to plate in the oven. Cover with foil. Repeat with more butter and remaining batter, until all pancakes are cooked. Garnish a stack of pancakes with banana slices, walnut pieces, and crème fraiche to taste.
Makes 12-16 pancakes.
Information
Category

Breakfast/Brunch, Pancakes/Waffles

Cuisine

North American