Today we're learning how to make tacos! But not any ordinary taco: chef Dean Fearing's great culinary mashup, Tex-Mex barbecue shrimp tacos. Let the charming Texas native show you how to make your new go-to Summer recipe and give you a lesson in advanced culinary vocabulary in the meantime.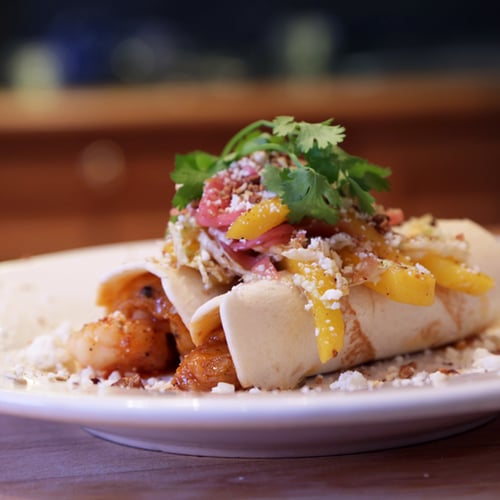 Ingredients
For barbecue shrimp tacos:
1/2 tablespoon vegetable oil
1 cup shrimp, peeled, deveined, and diced
Salt to taste
Fresh cracked black pepper to taste
1 cup barbecue sauce
1/2 cup jalapeño jack cheese, grated
4 6-inch flour tortillas, cooked and warm
4 cups mango pickled onion salad
1/3 cup grated cotija cheese
1/3 cup toasted and coarsely ground Mexican pumpkin seeds
4 fresh serrano chilies
4 sprigs fresh cilantro
For mango pickled onion salad:
2 ripe mangoes, peeled and cut into thin julienne
2 cups pickled red onion
3 cups green cabbage, rib removed and thin julienne
1/2 cup pecans, toasted
1/4 cup cilantro, finely sliced
Smokey cumin lime vinaigrette
Salt to taste
For smokey cumin lime vinaigrette:
1/2 cup olive oil
1/2 cup vegetable oil
1/2 cup fresh lime juice
1 small onion cut into small dice and cold smoked for 20 minutes
1 cup fresh orange juice
1/2 tablespoon whole cumin, toasted
2 tablespoons malt vinegar
3 tablespoons maple syrup
Salt to taste
For pickled red onions:
1 red onion
1/2 cup white wine vinegar
1/2 cup white sugar
Pinch of salt
Directions
To make pickled red onions: Peel onion. Cut in half, and slice into very thin half-moon shapes. Put in a small bowl, and set aside. Heat vinegar and sugar in a small saucepan over medium heat, stirring constantly. When sugar dissolves, remove from heat. Add pinch of salt and pour over onion in container, and cover with plastic. Put in the refrigerator, and allow to stand overnight and pickle approximately 8-12 hours. When cool, drain onions and use for salad.
To make smokey cumin lime vinaigrette: Combine the first three ingredients in a medium-sized bowl. Add smoked onions, orange juice, cumin, vinegar, and maple syrup to a small saucepot, and bring to a boil. Cook until mixture has reduced to almost dry, about five minutes. Place smoked onion mixture into blender, and puree until smooth. Add to oil and lime-juice mixture. Season with salt, and stir until completely blended.
To make mango pickled onion salad: Place the first five ingredients into a medium bowl. Slowly add vinaigrette until salad is lightly coated. Season with salt, and serve with tacos.
Place oil in a large sauté pan over medium heat. Add shrimp to hot pan, season with salt and pepper, and sauté for one minute until shrimp turns red.
Deglaze pan with barbecue sauce by bringing to a boil, and quickly remove pan from heat. Add jalapeño jack cheese, and stir to combine until cheese has melted into mixture.
To assemble: Place a warm tortilla in the middle of each warm serving plate. Spoon equal portions of shrimp mixture into the middle of each tortilla. Roll each tortilla into a cylinder with the seam side down. Then add a small portion of mango pickled red onion salad on top of each taco. Sprinkle with cotija and Mexican pumpkin seeds, and garnish with fresh serrano chilies and sprigs of cilantro.
Information
Category

Main Dishes

Cuisine

Mexican

Yield

4 servings