Basic Steak Recipe
Aged Steak Is Best Served Basic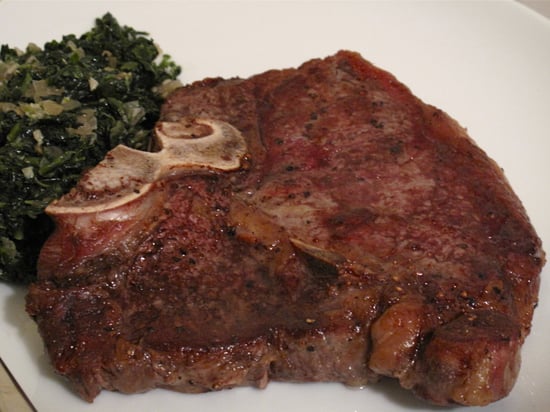 It's fun to give a big slab of beef the royal treatment in everything from a Brazilian cachaça marinade to a generous helping of piquant chimichurri. But here's my advice: if you ever get your hands on an ultrapremium dry-aged prime steak, don't do much to it at all.
After educating myself on beef cuts from their Meat Bible, I recently tried out a piece of all natural grain- and grass-fed beef from New York butcher Lobel's.
To highlight the beef's quality flavor, I didn't fancify the steak and made sure not to move the meat around. My reward? A perfect piece of beef with a tender texture and rich, marbled flavor. For the best simple steak recipe, read more.
Ingredients
1 steak, preferably aged (I used a 16-ounce dry-aged porterhouse), at room temperature
Salt
Pepper
1-2 tablespoons olive oil
Equipment: Oven-safe skillet, meat thermometer
Directions
Heat the oven to 450 degrees F.
Season steak generously with salt and pepper, then rub it with olive oil.
Heat an oven-safe skillet over high heat for several minutes. Put the steak in the dry pan; it should sizzle. Allow the meat to stay put in one place to form a crust.
After three minutes, lift the steak up with tongs and check the bottom. It should be golden to dark brown, with some gray undertones. Look for more brown than gray. Allow for a few more minutes of cooking time if necessary.
Flip the steak and put it in the oven to finish cooking.
After roughly 2 minutes, check on the steak. For medium rare, steak should be spongy in the middle when poked, or will register 120 degrees F to 125 degrees F on a meat thermometer. If it's not there yet, return steak to the oven for two more minutes.
Remove the steak from the oven, and let it sit for 5-10 minutes so the juices settle before eating.
Makes 1 steak.
Information
Category

Main Dishes, Beef

Cuisine

North American