Croutons
Modified From Martha Stewart [3]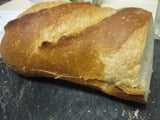 Ingredients
2 tablespoons unsalted butter, melted
1/3 cup extra-virgin olive oil
1 loaf (8 to 10 ounces) rustic Italian bread, cut into 3/4-inch pieces
1 teaspoon salt
1/2 teaspoon freshly ground black pepper
Directions
Preheat oven to 350 degrees.
Combine butter and olive oil in a large bowl. Add bread cubes, and toss until coated. Sprinkle with salt and black pepper; toss until evenly coated.
Spread bread in a single layer on an 11-by-17-inch baking sheet.
Bake until croutons are golden, about 15-20 minutes.
Makes 3-4 cups of croutons.
Information
Category

Breads, Bread