Beach Bonfire Menu and Recipes 2010-07-13 07:50:56
Come Party With Me: Beach Bonfire — Menu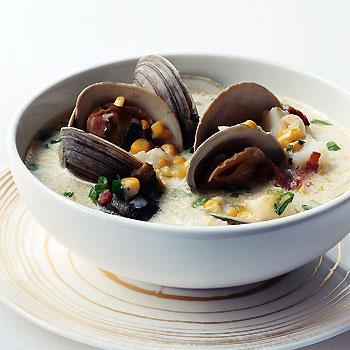 My little sister has spent the past two months in the Dominican Republic leading a small study abroad tour. To welcome her back home to California, I'm throwing a beach bonfire! Ten of our closest friends will meet us at the shore around 6:30. We'll watch the sunset and enjoy a fabulous meal. When we arrive at the ocean, I'll set out cheese, salami, crackers, and an easy homemade crab cocktail dip. For the main event, I'll heat up a bubbling pot of clam and corn chowder.


A crisp romaine salad with Caesar dressing rounds out the festive menu. To see the recipes I plan on using, keep reading.
Ingredients
1 pound softened cream cheese
1 cup cocktail sauce
1 pound lump crab
Chives, for sprinkling
Crackers, for serving
Directions
Spread 1 pound of softened cream cheese in a 5-by-9-inch baking dish.
Layer with 1 cup of cocktail sauce and 1 pound of lump crab meat. Sprinkle chopped chives on top and serve with crackers.
Serves 6-8.
Information
Category

Dips, Appetizers

Cuisine

North American
Ingredients
3 bacon slices, cut crosswise into thin strips
1 bunch scallions (5 or 6)
2 tablespoons unsalted butter, divided
2 cups corn (from about 4 ears)
1 pound boiling potatoes, peeled and cut into 1/2-inch cubes
2 (8-ounce) bottles clam juice
1/2 cup water
2 pounds small hard-shelled clams, well scrubbed
1 cup whole milk
1/2 cup heavy cream
Directions
Cook bacon in a 4- to 5-quart heavy pot over medium heat, stirring, until slightly browned but not crisp.
Chop white and pale green parts of scallions (reserve greens) and add to bacon along with 1 tablespoon butter. Cook, stirring, 2 minutes.
Stir in corn, potatoes, clam juice, water, and 1/2 teaspoon pepper and bring to a rolling boil, uncovered. Add clams and return to a boil, then simmer, uncovered, stirring occasionally, until clams are just opened wide, 5 to 8 minutes (discard any clams that remain unopened after 8 minutes).
Chop 1/2 cup scallion greens and add to chowder along with milk, cream, and remaining tablespoon butter. Cook, stirring, until heated through (do not let boil). Season with salt and pepper.
Serves 4-6.
Information
Category

Soups/Stews, Chowder

Cuisine

North American
Ingredients
1/3 cup reduced-fat mayonnaise
2 to 3 tablespoons fresh lemon juice
3 tablespoons grated Parmesan cheese
1/4 teaspoon Worcestershire sauce
1/4 teaspoon each coarse salt and ground pepper
1 large or 2 medium heads romaine lettuce (1 3/4 pounds), cut into 1-inch pieces
Directions
In a large bowl, whisk together mayonnaise, fresh lemon juice, grated Parmesan cheese, Worcestershire sauce, and coarse salt and ground pepper. (If mixture is too thick, add 1 to 2 tablespoons water.)
Add lettuce; toss to coat with dressing. Top with shaved Parmesan, if desired.
Serves 4.
Information
Category

Greens , Salads

Cuisine

North American