Bean Salad With Vinegar | Recipe
A Tangy 6-Bean Salad Perfect For Picnics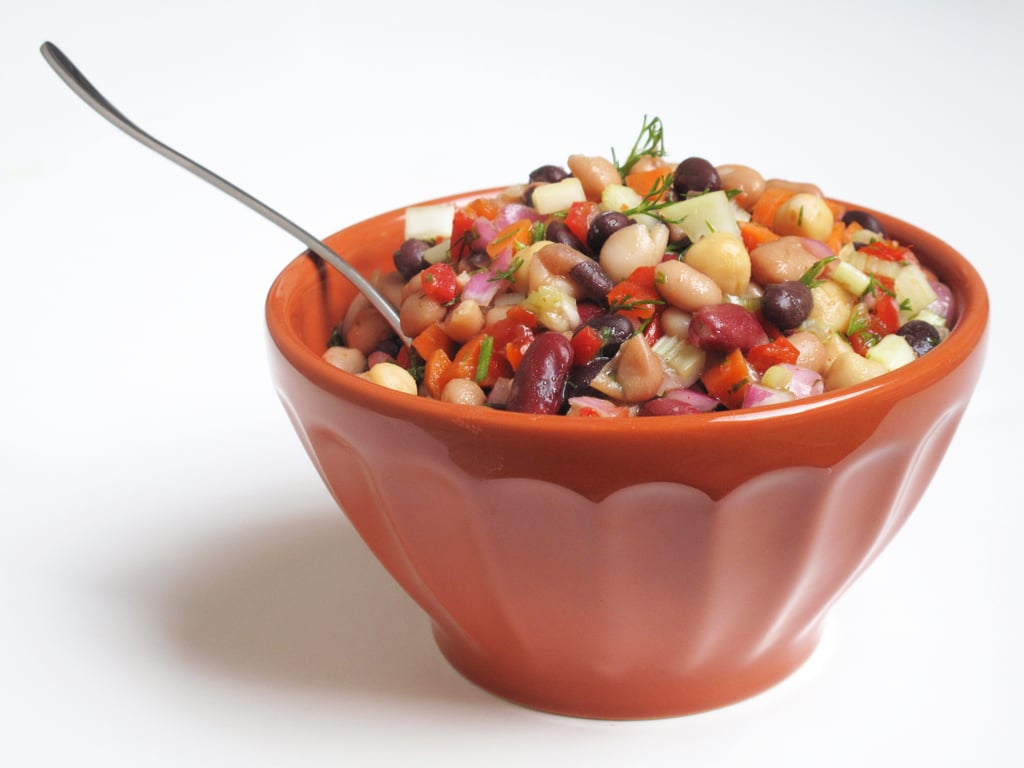 Do you, like me, equate sun-filled May days with outdoor eating and drinking? If so, then you'll spring for this speedy, supersimple, no-cook bean salad.
Macaroni and potato salads may get most of the love, but I'd argue the unsung hero of the picnic is actually the bean salad: it's light, full of wholesome ingredients, and satisfying. This six-bean version in particular boasts a symphony of flavors; it's sweet, savory, tangy, a little bit spicy, and bright (thanks to the addition of fresh dill). Best of all, it's free of any cream or mayonnaise, so you'll never have to worry about it baking in the Summer sun.
Get the effortless bean salad recipe now.
Six-Bean Salad
From Susannah Chen, POPSUGAR Food
Notes
We used canned, unsalted cooked beans in this recipe, so if you're using beans that have already been seasoned, adjust the salt level to your taste.
Ingredients
1/3 cup red-wine vinegar
4 tablespoons balsamic vinegar
1 1/2 tablespoons honey
1/4 cup extra-virgin olive oil
1 tablespoon ketchup
1 1/2 tablespoons hot sauce
1 teaspoon sea salt, plus more to taste
1 cup black-eyed peas, cooked and drained
1 cup chickpeas (garbanzo beans), cooked and drained
1 cup kidney beans, cooked and drained
1 cup black beans, cooked and drained
1 cup cannellini beans, cooked and drained
1 cup pinto beans, cooked and drained
1 large celery stalk, finely chopped
1 large carrot, finely chopped
1/2 cup peppadew peppers (sweet red peppers), finely diced
3/4 cup red onions, finely diced
1/4 cup scallions, sliced
1/3 cup chopped fresh dill
Freshly ground black pepper, to taste
Directions
In a large bowl, whisk together red-wine vinegar, balsamic vinegar, honey, olive oil, ketchup, hot sauce, and sea salt.
Add remaining ingredients to the mixing bowl, and toss gently until well combined. Let sit in the refrigerator for at least 2 hours to allow flavors to blend. Toss again just before serving.
Serves 6-8 as a side dish.
Information
Category

Other, Main Dishes, Beans

Cuisine

North American