Beef Goulash Recipe
Rainy Day Beef Goulash With Gnocchi
Nostalgia is a funny thing; foods that we'd typically turn up our nose at can seem weirdly appealing, thanks to happy memories. Rather than dine on a subpar meal in the name of authenticity, Food Orleans did it one better and revamped a childhood lunch-line favorite: hearty beef goulash.
Goulash is a dish that Paul and I have radically different memories of. I grew up eating the 1970's school-lunch version known as "Goulash Supreme," which consisted of soggy macaroni, bland ground beef, and stewed tomatoes. I should point out here that when I was a kid, I actually liked it. And that it's pretty much the only thing called "goulash" I remember eating, ever, anywhere. And that I'm ready for a better goulash to take its place in my life.
Keep reading for her improved-upon recipe.
Paul, on the other hand, has only had goulash in Budapest. Seriously. Budapest, where they have bars with awesome names like "Old Man Pub" and you can eat steak tartare for breakfast, complete with a raw egg and a shot of Jager. When he had goulash there, it was made with goat and was served to him in an individual clay pot with a baked-bread top (as in, they baked a crispy bread right on top of the goulash. DANG.). It's one of the best things he's ever eaten, he's told me time and time again, and I believe it. I even found a picture of it on the Internets! Here it is, from the Old Man Music Pub: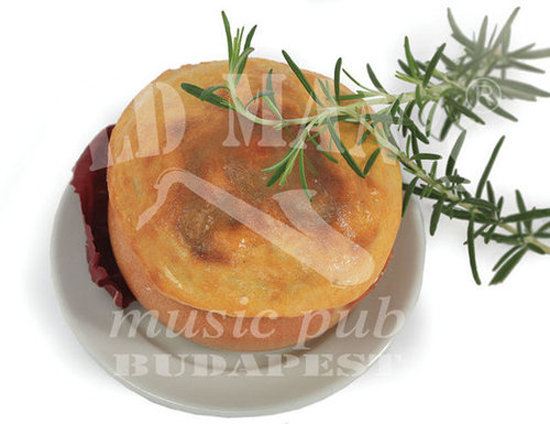 So what I've come up with here is much, much better than what I grew up eating, and though it lacks a bready top, it's pretty close to what Paul had: a dark, hearty beef (not goat) stew that'll stick to your ribs and stomp out the rainy day blues. If you want to go for the glory, put some of it in a baking dish and bake a pie crust on top. Even homemade dumplings would be great, but if you're tired, like me, store-bought gnocchi totally does the trick.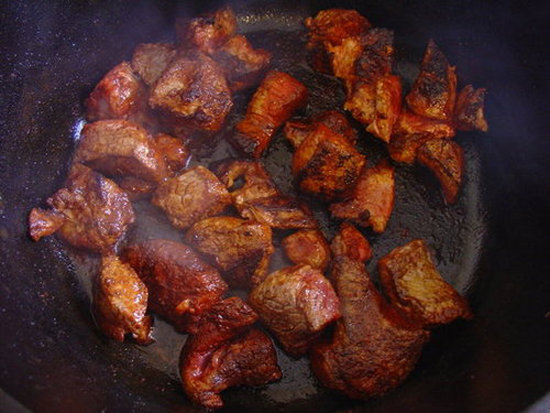 Start off by browning the beef and paprika in a heavy soup pot.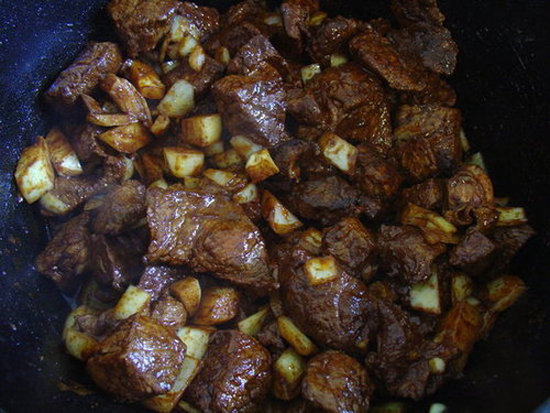 Add the onions to the beef and let them get nice and soft.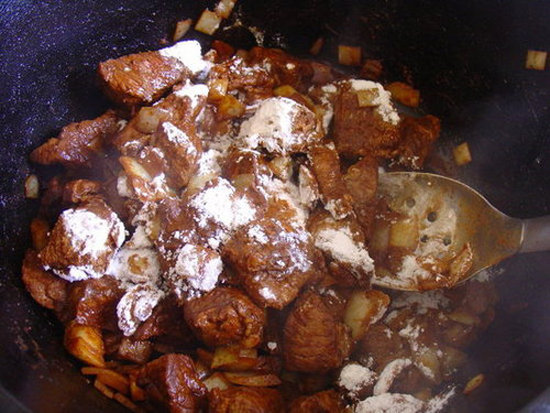 Then, we're going to put a little Louisiana in there: sprinkle in a couple tablespoons of flour, stir it around, and let it get pasty with the onions, beef, and oil for a couple of minutes. It's like a mini-roux, and it really helps give the goulash a thicker body, which is what I wanted. Less soup, more GOU.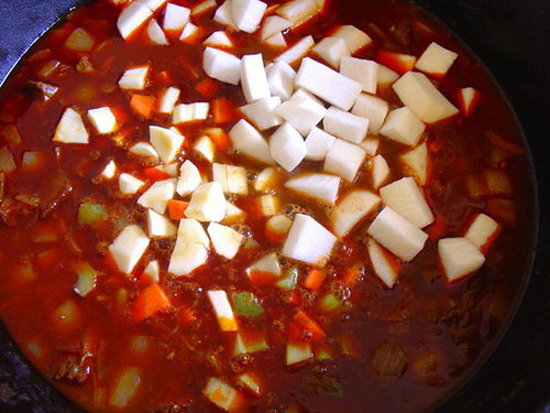 After it cooks for a while with the wine, stock, carrots, parsnips, celery, and turnips, add the diced potatoes (pictured above). This is pretty much the last step, other than adjusting the seasonings and preparing whatever type of dumpling/noodle/gnocchi/pie crust you prefer.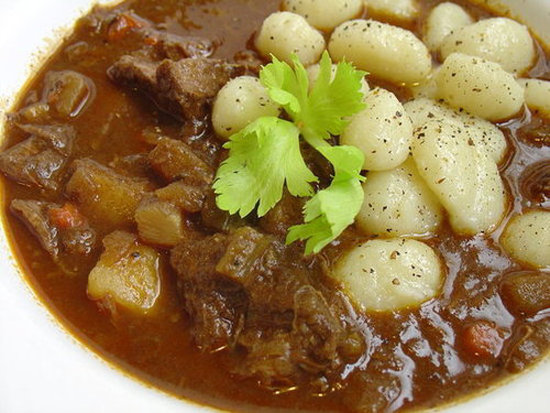 It's really a simple thing to cook, once the beef is browned, and makes a big pot of beefy vegetabley goodness perfect for rainy weather or for freezing for future rainy days. I like to garnish it with celery leaves, but you can use parsley too. 
Rainy Day Beef Goulash with Gnocchi
4 tablespoons Hungarian paprika (not smoked)
3 pounds beef cut for stew, in 1" to 2" chunks (or cut up three pounds of beef chuck)
2 tablespoons canola or vegetable oil, plus more if needed
2 large onions, diced
2 tablespoons all-purpose flour
1/2 teaspoon caraway seeds
2 bay leaves
1 cup red wine (I used a pinot noir)
5 1/2 cups beef stock
3 medium parsnips, peeled and diced
3 medium carrots, peeled and diced
3 stalks celery, diced
2 small turnips, peeled and diced
5 medium potatoes, peeled and diced (I used 2 yukon golds and 3 red potatoes)
salt and pepper to taste
cooked gnocchi for serving (optional)
Toss the beef with the paprika until well coated. Heat 2 tablespoons oil in a large soup pot or Dutch oven over medium-high heat, until almost smoking. Add the beef to the pot in batches and cook until well-browned on all sides, about 8 minutes. Set the browned beef aside and continue cooking until all the beef is browned, adding more oil to the pot if necessary to prevent burning.
Return all the browned beef to the pot and reduce the heat a little, to slightly above medium. Add the onions and saute about 6 minutes, until starting to get soft. Sprinkle in 2 tablespoons of flour and stir well, incorporating it into the oil (it should be a little pasty). Cook for 2 minutes, then stir in the caraway, bay leaves, wine, and stock. Bring to a simmer and cover; simmer for 30 minutes.
Add the parsnips, carrots, celery, and turnips. Cover and simmer for 1 hour, stirring occasionally.
Add the potatoes; cover and simmer for 30 more minutes, stirring occasionally.
Taste and adjust seasoning with salt, black pepper, and additional paprika if you like. To serve, drop some cooked gnocchi in each bowl, or homemade dumplings, or egg noodles. Or bake a pie crust on top of it in the oven, and let me know how it goes.
Makes 8 to 10 servings
Want more? Start following Food Orleans, then get to work on your own food blog. You could wind up featured here!