 During rainy season, which is happening in the Bay Area as we speak, I'm forever trying to cure a sense of bone-chilling dampness. Right now, my favorite way to fend off the cold is with a rich, steaming hot platter of beef stroganoff. It can either be fast and easy, or the picture of slowly cooked succulence. Depending on your schedule, choose a recipe that calls for browning beef in mere minutes — or, alternatively, marinating and then roasting short ribs for hours, until they're soft enough to fall off the bone. Choose between the two when you
.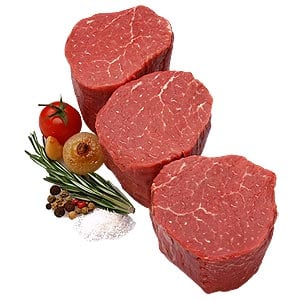 Ingredients
1 pound beef tenderloin
Coarse salt and ground pepper
3 tablespoons canola oil
1 medium onion, thinly sliced
1 pound white mushrooms, sliced 1/2 inch thick
1 cup reduced-sodium canned beef broth
1 tablespoon Dijon mustard
1/2 cup sour cream
Chopped fresh dill, for garnish
Directions
Slice beef into 2-inch-long strips, each about 1 inch wide and 1/4 inch thick. Season generously with salt and pepper. Heat 2 tablespoons oil in a large skillet over high heat. Brown meat in two batches, about 1 minute per side; remove from skillet, and set aside.
In same skillet, heat remaining tablespoon oil over medium heat. Add onion; cook, stirring occasionally, until lightly browned, 5 to 7 minutes. Add mushrooms; cover. Cook until just tender, 6 to 8 minutes. Add broth; simmer, uncovered, until liquid has thickened, 6 to 8 minutes.
Stir mustard into mushroom mixture in skillet. Return beef to skillet; cook over medium-low heat until heated through, 1 to 2 minutes. Remove from heat, and stir in sour cream. Season with salt and pepper, as desired. Serve immediately, garnished with chopped dill.
Serves 4.
Information
Category

Main Dishes, Beef

Cuisine

North American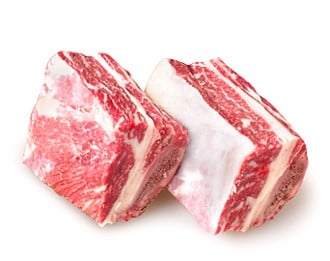 Ingredients
4 cloves garlic, roughly chopped, plus 2 cloves, minced
Kosher salt and freshly ground black pepper
Extra-virgin olive oil
1 sprig fresh rosemary, leaves removed
1 large sprig fresh thyme, leaves removed
3 pounds beef short ribs, cut into 2 ribs apiece
1 1/2 pounds cremini mushrooms
1 1/2 pounds white button mushrooms
1/2 cup chopped shallots
1/4 cup cognac
2 cups heavy whipping cream
1 tablespoon Dijon mustard
1/2 cup sour cream
1 pound egg noodles
3 tablespoons unsalted butter
2 tablespoons freshly chopped flat-leaf parsley
2 tablespoons freshly chopped green onions
Directions
Preheat oven to 300ºF. Place the chopped garlic, salt and pepper into a bowl. Add enough extra-virgin olive oil to create a paste. Add the rosemary and thyme leaves to the bowl and stir to combine.
Set short ribs out on a roasting tray and cover with herb paste. Roast in the oven for 2 hours and 30 minutes until they are falling apart.
Heat a large sauté pan over high heat and add a 3-count of olive oil. Add mushrooms and cook for 3 minutes until brown. Add shallots and minced garlic and toss to combine. Season with salt and pepper. Cook for a further 2 minutes until garlic and onion become fragrant. Remove pan from heat and carefully add cognac to deglaze the pan. Return to heat and add cream. Reduce heat and simmer until reduced by half. Turn off heat and stir in Dijon mustard and sour cream. Season with salt and plenty of freshly ground black pepper.
Cook egg noodles in salted boiling water according to directions on package. Drain and toss with butter while still hot.
To serve, pile the noodles high on a plate, top with stroganoff sauce and finish with rib slices. Garnish with fresh parsley and green onions.
Serves 4 to 6.
Information
Category

Main Dishes, Beef

Cuisine

North American