Beef Tenderloin Roast Tips
Make Beef Tenderloin: It's the Ultimate Holiday Roast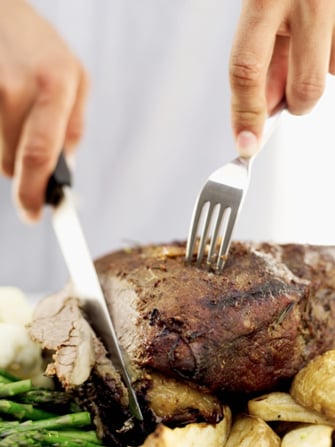 There's no better time than the December holidays for a large, important meat roast — and in my humble opinion, there's no better roast than the beef tenderloin. I'm not the only one who believes this.
"Beef tenderloin is a special cut — it's prized because of its tenderness, yet it's incredibly lean. Because it's a solid muscle, it roasts and slices beautifully," Michaele Musel, culinary expert for Washington beef purveyor Double R Ranch, told me.
Since Michaele's prone to making holiday roasts more than once a year, I asked her to weigh in on everything tenderloin, from portion size to presentation. Here are a few things to bear in mind.

First, make sure you've got the serving size right. "A general rule of thumb for the holidays is six ounces of cooked roast per person," Michaele said. That would mean a four- to five-pound roast to feed eight to ten people, or factoring in a slightly larger amount (six to eight pounds) if you're purchasing a rib roast for the same number of guests.
Opt for a center cut beef tenderloin if you're new to the world of holiday roasts. "The center cut allows for even roasting and doneness," she explained — making it more than foolproof for a first-timer.
Keep reading for more thoughts on beef tenderloin.
Sometimes the simplest way to prepare a cut is the best way, too. With so many elements of dinner to juggle, don't bother with anything too complicated. "I'm a big fan of fresh herb and sea salt rubs for roasting," said Michaele. "There are so many wonderful sea salts out there to experiment with." For a superspecial occasion, serve the beef alongside a red wine Cognac sauce for added decadence.
Try cooking the beef "steakhouse style." This is Musel's go-to method, and it involves searing the meat in a cast-iron pan on all sides until browned, then finishing off the meat until it's reached a medium-rare doneness in the oven.
But for the ultimate experience, try poaching in oil. "I like searing a rubbed roast, then poaching it in a combination of 70 percent grapeseed oil and 30 percent olive oil until medium rare. You'll end up with a succulent, melt-in-your-mouth roast — just be careful that the temperature of the oil doesn't reach about 120ºF, or you'll end up frying the roast and burning the rub."
Go for rustic elegance when it comes to presentation. Michaele opts for carving tenderloin tableside on a cutting board garnished with fresh herbs, "Nothing beats the look on a guest's face as they watch the rosy slices fall back on the cutting board."
Have you ever made beef tenderloin at home for the holidays?