Beer Review: Dogfish Head Midas Touch
Happy Hour: Midas Touch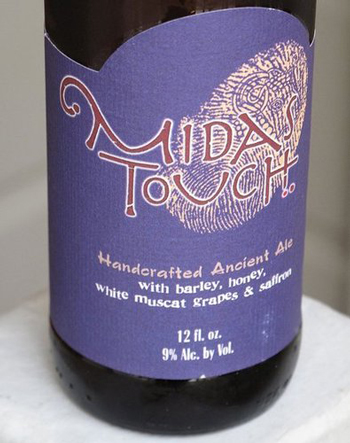 The balmier the weekends get, the more I reach for a beer over cocktails or wine. So I've been clearing out the beer aisles at the local Whole Foods, going by no methodology other than what sounds delicious and looks appetizing — and I've yet to encounter a brewski that disappoints.
My latest fixation is Midas Touch, a year-round specialty from craft brewing pioneer Sam Calagione of Dogfish. I was drawn to its unique ingredients — barley, honey, white muscat grapes, and saffron — but also discovered its uniquely storied history.
Dogfish's Midas Touch recipe is based off of chemical analysis of residues found in clay vessels belonging to King Midas and dating back to the eighth century BC. At the time of its release, it was the oldest fermented beverage in the world. If what King Midas was drinking tasted anything like what I've been sipping, then he had it pretty good. The liquid is half aromatic wine, half beer, with a nice honey nose and a lingering finish, thanks to the addition of the floral and fruity muscat grapes. A glass makes me feel like ancient royalty, too. What's your craft beer of the moment?