Beet and Apple Salad With Mustard Dressing
Richard Blais's Beet and Apple Salad With Mustard Dressing
Some might say that kale was so last year, but Richard Blais isn't giving up on the lovely leafy green anytime soon (and neither are we!). In this video, the Top Chef alum shows us one of his must-make, lunchtime-ready salad that combines the aforementioned kale, raw beets, and apples with a zesty mustard-based dressing. Dig in!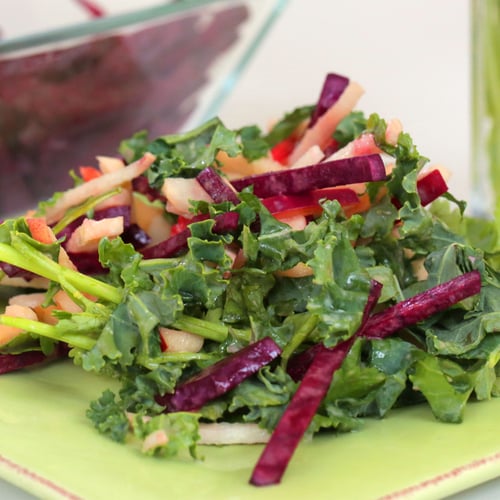 Raw Beet Salad With Jicama, Apple, and Mustard Dressing
From Richard Blais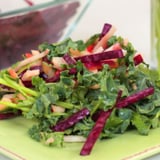 Ingredients
For the mustard dressing:
1/4 cup plain nonfat Greek yogurt
1 teaspoon fresh ginger, grated
2 tablespoons honey or agave nectar
1/4 cup sherry vinegar
3 teaspoons yellow mustard
1 tablespoon onion, minced
1 teaspoon garlic, grated
1 teaspoon dried tarragon, chopped
1 teaspoon red hot chili peppers, minced
For the salad:
1 cup kale, thinly sliced
2 cup raw red beets, cut into matchsticks
1 cup jicama, cut into matchsticks
3/4 cup apple, cut into matchsticks
2 tablespoons cilantro, chopped
1 lime, zested
Directions
Whisk together the dressing ingredients until combined.
Toss together the kale, beets, jicama, apple, cilantro, and lime zest with the dressing. Serve immediately.
Information
Category

Vegetables, Salads

Yield

2 servings