Behind the Scenes With Jacques Torres
An Inside Look at Jacques Torres's Chocolate Factory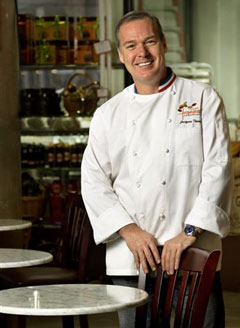 Chocolatier Jacques Torres opened up one of his NYC factories recently to show off the methods to his chocolate madness. Jacques, who started his career as a pastry chef, said his work is as fun as one might expect. "I am where I want to be in my life," he said. "I just love it."
His SoHo location has both a tasting room and production area, which is in addition to equally appointed facilities in Upper Manhattan and Brooklyn. He creates his own chocolate from beans he buys from all over the world, but location matters. In chocolate, much like coffee and wine, both climate and environmental factors can affect the taste. However, since demand for Jacques's products is so high, he also has to buy a great deal of premade chocolate.
To see what chocolates were my favorites, just
.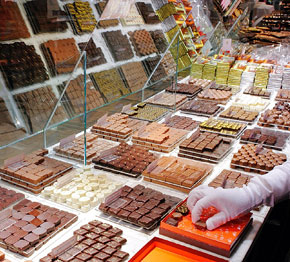 Jacques fashions his variety of delicious products with machines imported from all over the world, including a marzipan and peanut butter refiner that was once used to smooth lipsticks. A walk-in oven is where he turns out dozens of cookies each day, and he uses a conventional movie theater popper for the popcorn. Among the favorites I sampled was Jacques's 70 percent chocolate bar, and of course, chocolate covered strawberries. The greatest mystery of all to me, though, was how one spends his life around sweets and manages to stay fit.
Jacques's secret is restraint. He said, "I try to eat less chocolate, and enjoy each bite a little more."